Discover the Perfect Solution for Your Home
3-Layer Cloth Rack Sri Lanka, you can save space and make it look nice.
Are you tired of cluttered spaces and clothes piling up around your home? Look no further! Introducing the 3-Layer Cloth Rack Sri Lanka, the ultimate solution to your drying and organizing needs. This practical and portable clothes dryer is designed to enhance the beauty of your home while providing functionality that simplifies your daily routine.
Unparalleled Quality and Versatility
Premium Quality Craftsmanship for Long-lasting Durability
At Maza lk, we understand the importance of investing in products that stand the test of time. That's why our 3-Layer Cloth Rack Sri Lanka is meticulously crafted with high-quality aluminum alloy and plastic materials. This ensures its sturdiness and reliability, allowing you to enjoy its benefits for years to come. Say goodbye to flimsy drying racks that break easily and hello to a reliable companion for your laundry needs.
Versatile Design for Various Clothing Items
With its exquisite design and elegant appearance, our 3-Layer Cloth Rack Sri Lanka complements a wide variety of clothing items. Whether it's coats, jackets, sweaters, or shirts, this clothes dryer is perfect for facilitating the hanging and drying process. Each layer provides ample space, allowing you to efficiently organize your clothes while optimizing every inch of your home. Say goodbye to cramped spaces and hello to a well-organized and visually pleasing environment.
3: Convenience and Value at Your Fingertips 3-layer cloth rack
Space-Saving Solution with Easy Assembly
We understand the importance of space in your home, and that's why our 3-Layer Cloth Rack Sri Lanka is designed with a three-layer structure. This innovative design maximizes vertical space utilization, enabling you to save precious square footage. No more bulky drying racks occupying valuable floor space! Plus, with the provided manual and straightforward assembly process, you'll have your new cloth rack ready to use in no time.
Trusted Online Shopping Experience with Maza lk
We believe in providing the best customer experience, and that's why Maza lk is your trusted online shopping destination in Sri Lanka. With a wide range of premium quality products at the best prices, we strive to make your shopping journey enjoyable and hassle-free. Our commitment to customer satisfaction extends to our reliable island-wide cash-on-delivery service, ensuring that you receive your purchases conveniently and securely.
Specifications
Color: Blue
Dimensions: (29.53 x 19.29 x 70.87)" / (75 x 49 x 180) cm (L x W x H)
Material: Aluminum Alloy & Plastic
Weight: 160.67oz / 4555g
Pipe Length: 52cm,66cm,68cm
Every Layer Height: 21.06″ / 53.5cm
Layer: 3 Layers
3-layer cloth hanger stand Package
1 x Three Layers Dryer (To be assembled)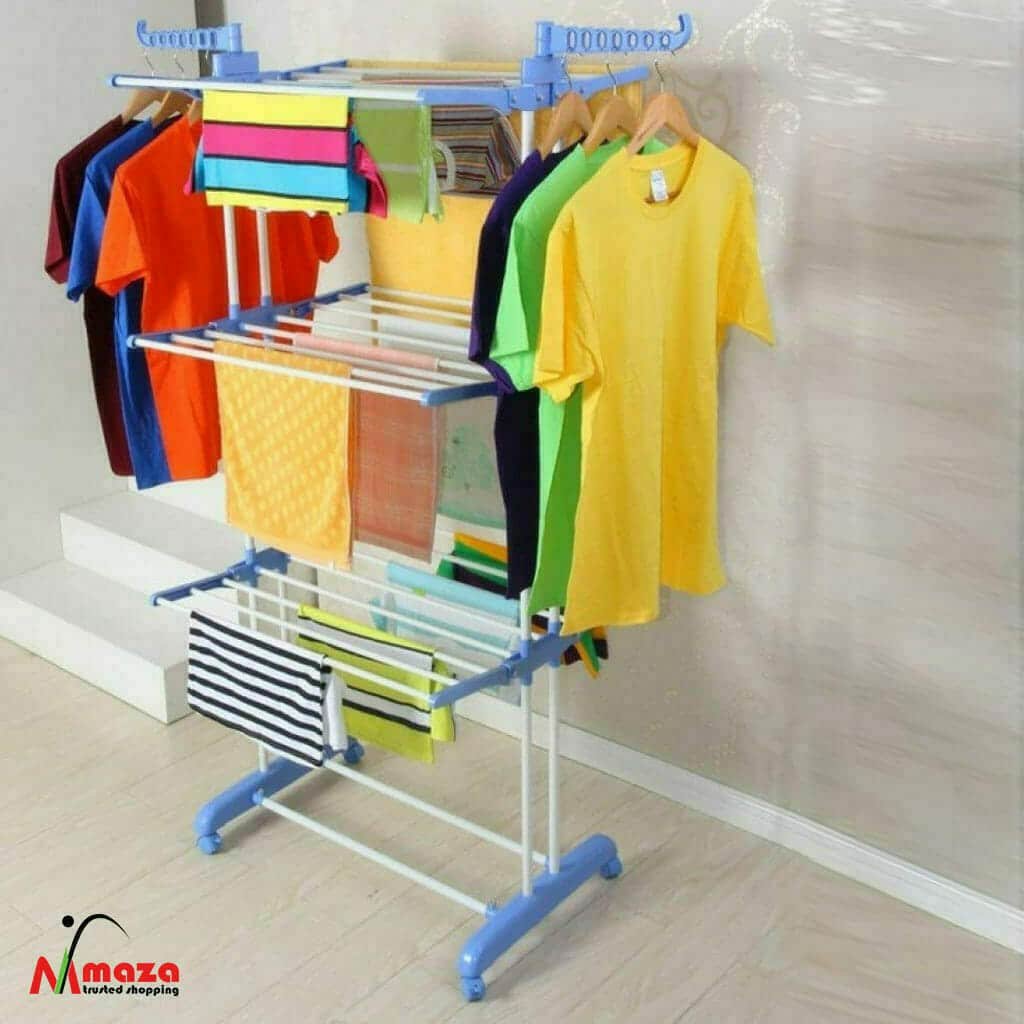 Sales promotions and services.
Easy returns and refunds policy. Cash on delivery island-wide. Free delivery  Valid purchase in all districts. Your purchase value is Above Rs 5500. Get extra 5% Discount Use this code: get5 in the cart or checkout page. Get Rs 1500.00 worth of discount coupons Just Subscribe to the Newsletter or Complete registration for Maza LK online shopping Click here.
Keep in Touch
Follow our social media. Facebook. Instagram. Twitter. Pinterest.
FEEDBACK:
If you are happy with your purchase, please leave us positive feedback and give us the highest ratings. If you are not happy, please give us the opportunity to make it right.
Please DO NOT leave negative feedback. If there is any problem, please contact us, we will do our best to resolve the issue as soon as possible. We aim to provide the highest quality of service.
Your comments are very important to our business success. If you are satisfied with the purchase and our service, please take a minute to give us positive feedback, as well as leave us 5-star ratings.