The Ultimate Ice Cube Maker Genie – Revolutionize Your Drink Experience!
ice cube maker genie
Are you tired of watered-down drinks that fail to deliver that refreshing chill? Look no further! your new best friend for creating the perfect ice cubes that will elevate your beverages to a whole new level. Get ready to embark on a tastebud adventure like no other!
Step up your ice game with our innovative silicone ice bucket. Crafted with superior quality and durability in mind, this ice cube maker is built to last. Made from high-grade ABS+PP material, it ensures long-lasting performance that can withstand even the busiest of kitchens. Say goodbye to flimsy, low-quality ice trays that crack and break with just a little pressure. Our Ice Cube Maker Genie is here to save the day!
Not only does this incredible ice maker provide exceptional durability, but it's also incredibly portable. Its space-saving size makes it the ideal companion for both indoor and outdoor use. Whether you're hosting a backyard barbecue, enjoying a picnic in the park, or simply lounging at home,  ready to serve up refreshing icy goodness wherever you go.
Unleash the Magic – Simple Steps to Ice Cube Perfection!
With its unique two-compartment design, the Ice Cube Maker Genie takes the hassle out of ice-making. The outer compartment is specially crafted to hold ice cubes, while the inner compartment keeps your ice fresh and ready to use. No more fumbling around with messy ice trays or struggling to fit them into your freezer. Our ice maker is designed to make your life easier and more enjoyable.
Using the Ice Cube Maker Genie is as easy as 1-2-3! First, pour pure water into the outer chamber and cover it with the lid. Then, pop the container into your refrigerator and let the magic happen. In just a few short hours, you'll have a batch of perfectly frozen ice cubes, ready to cool your favorite drinks.
Once the ice cubes are frozen, it's time to unleash the magic. Simply take out the inner cylinder and give it a gentle squeeze. Watch as the ice cubes effortlessly pop out, ready to be added to your beverages. Whether you're sipping on a refreshing cocktail, enjoying a cold glass of lemonade, or treating yourself to an iced coffee, the Ice Cube Maker Genie has got you covered.

Experience Refreshment Like Never Before – Grab Yours Today!
Get ready to take your drink experience to new heights with the Ice Cube Maker Genie. With a large capacity of 120 ice cubes, you'll never run out of chilled perfection. Whether you're hosting a party or enjoying a quiet night in, this ice maker ensures you'll always have an ample supply of ice at your fingertips. isn't just a practical addition to your kitchen; it's a game-changer. Its compact size, durability, and ease of use make it a must-have for every home. So why settle for ordinary ice cubes when you can have extraordinary ones?
Order your Ice Cube Maker Genie today and unlock a world of icy delights. Elevate your drinks, impress your guests, and indulge in the refreshing taste of perfection. Say goodbye to watered-down beverages and hello to a whole new level of refreshment. Don't miss out on this ice-making revolution!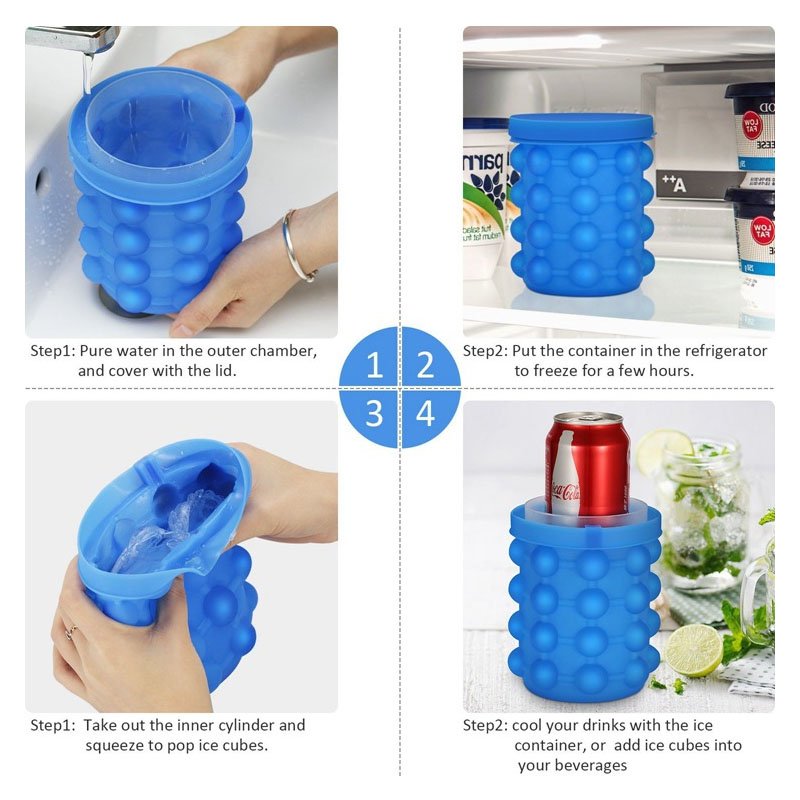 Keep in Touch
Follow our social media. Facebook. Instagram. Twitter. Pinterest.