Upgrade Your Kitchen Experience with the 6-Piece Spoon Set
Discover the vibrant and versatile Spoon Set 6 pcs kitchen tools set, a delightful addition to any kitchen. Infuse a burst of color into your culinary adventures while relishing in the durability and functionality of this set.
A Rainbow of Convenience for Your Kitchen
Transform your cooking routine with this 6-piece set, comprising essential kitchen tools designed to make your life easier and your kitchen brighter. Crafted from high-quality nylon and silicone, these utensils ensure durability and longevity.
All the Tools You Need in Spoon Set 6 pcs kitchen tools One Set
The set includes:
Slotted spoon
Solid spoon
Spatula
Ladle
Tongs
Dishwasher safe tools
Spaghetti server
Slotted turner
Flexible turner
Rotating storage stand
Crafted for Efficiency and Style
The ergonomic handles offer a comfortable grip, even when wet, ensuring a secure hold during meal preparation. Their non-slip feature guarantees a steady grasp, providing peace of mind as you cook up a storm.
Features that Stand Out
BPA-free and Food-grade Silicone: Ensure your family's safety with these high-quality materials.
Heat-resistant up to 480 degrees Fahrenheit: Cook with confidence, knowing these utensils can handle the heat.
Easy to Clean: Dishwasher safe or hand wash with mild soap and water, cleaning up has never been easier.
Elevate Your Culinary Adventures
These utensils are designed to elevate your cooking experience. They are perfect for everyday use, allowing you to effortlessly cook and serve a variety of dishes, whether it's a regular family dinner or a special gathering.
Your Kitchen's Colorful Companion
Not only do these utensils provide outstanding functionality, but they also add a pop of color to your kitchen, making every cooking session a joyous affair.
Your Time to Shine in the Kitchen
Cook with flair and confidence, knowing you have the best tools at your disposal. Grab your Spoon Set 6 pc kitchen tools set and let your culinary creativity shine. Let your kitchen become the canvas for your delicious masterpieces!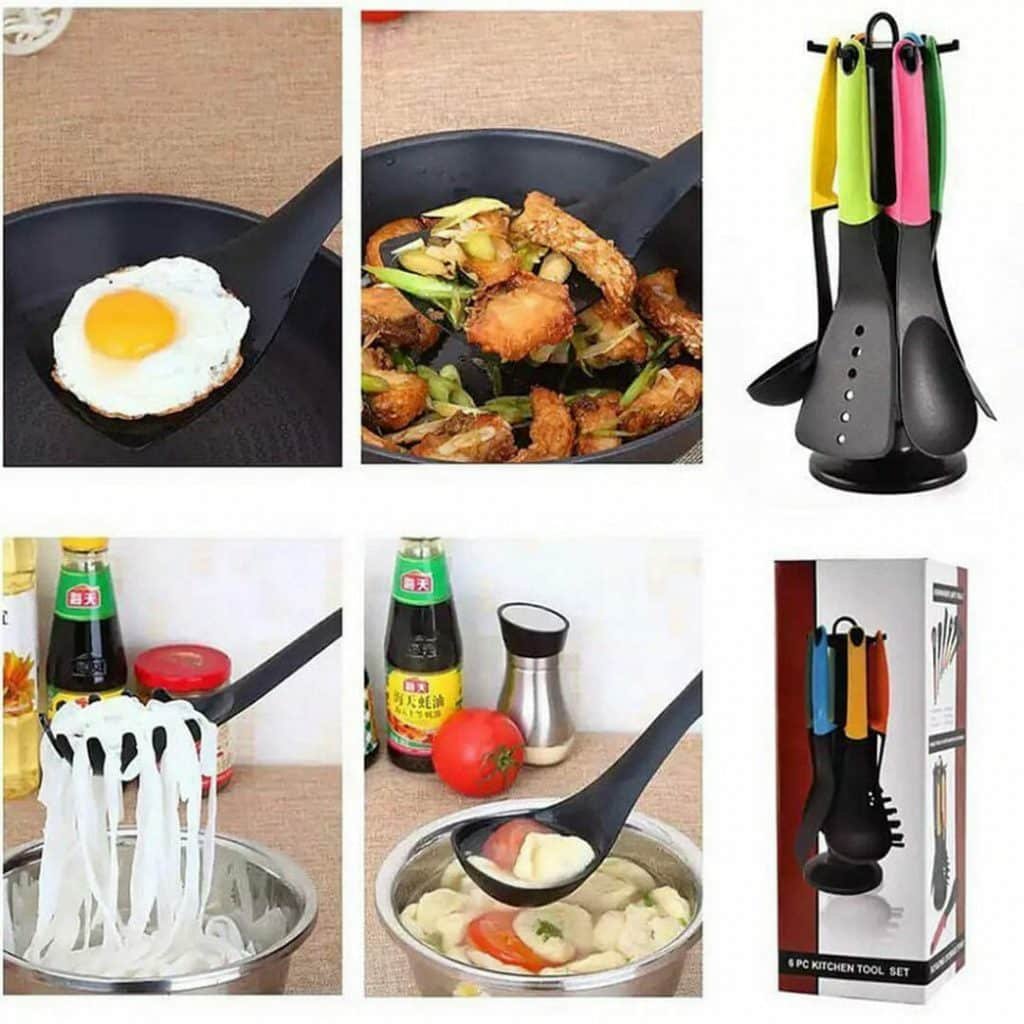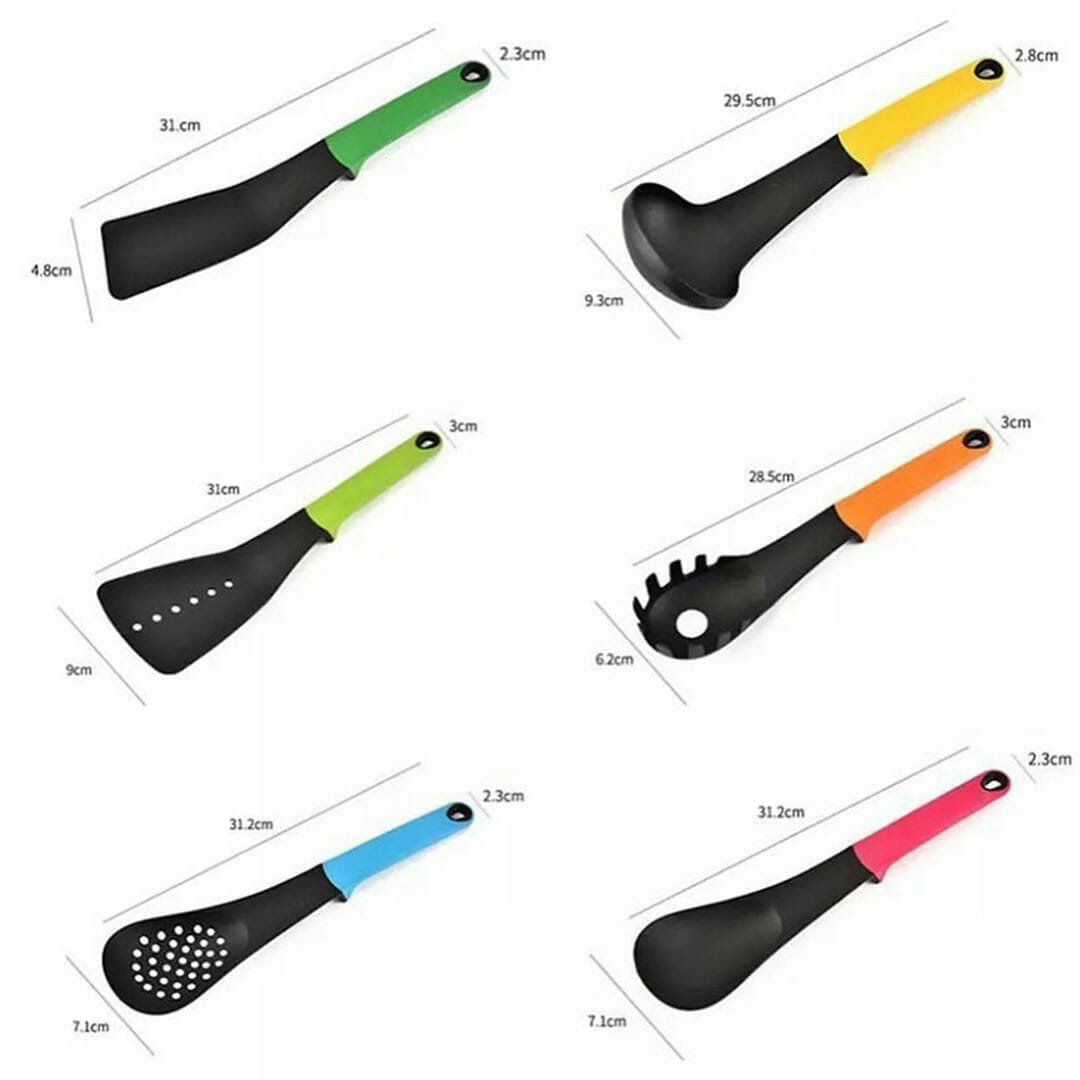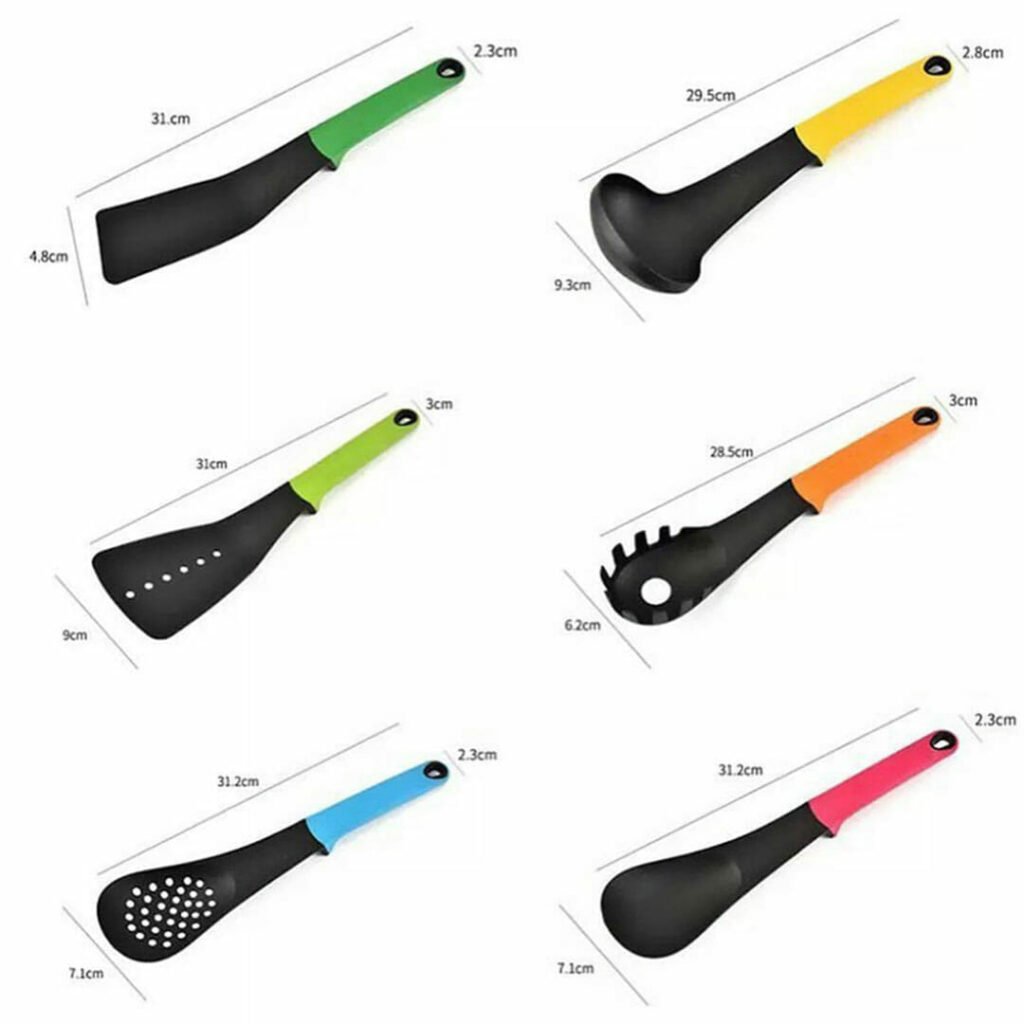 Keep in Touch
Follow our social media. Facebook. Instagram. Twitter. Pinterest.

Customer Testimonials
Sara L.
"Absolutely love this 6-piece spoon set! The colors are so vibrant and add a delightful touch to my kitchen. The ergonomic handles make cooking a breeze, and they're surprisingly sturdy. A must-have for anyone looking to add some fun to their cooking routine!"
Ruwn R.
"I've had this spoon set for a while now, and I'm thoroughly impressed. The heat resistance is a game-changer – no more worrying about melting utensils. The rotating storage stand is a brilliant addition, keeping everything organized and within reach. Highly recommend this set to anyone in need of reliable kitchen tools."
Sampath S.
"These utensils have become my kitchen staples. The non-slip handles are a fantastic feature, especially for someone like me who is constantly on the move in the kitchen. Easy to clean, vibrant colors, and they've held up perfectly after numerous washes. I find myself using them daily. 5 stars!"
Nimalson G.
"The quality of these utensils is outstanding. I was pleasantly surprised at how durable they are. The fact that they're dishwasher safe is a huge plus – who wants to spend extra time cleaning? The set has everything I need and more. Great value for the price. Highly satisfied!"
Raksana B.
"I purchased this set a few weeks ago, and I can't imagine my kitchen without it now. The ladle and spaghetti server are my personal favorites – they work like a charm! The rotating stand keeps everything organized and looks fantastic on my countertop. Definitely recommending this to all my friends!"