Discover the Ultimate Kitchen Companion: Powerful Immersion Hand Blender with Chopper
Unleash Culinary Creativity with the BioloMix 4-in-1 Hand Blender
Looking for a kitchen companion that can handle all your blending tasks with ease? Look no further than the Powerful Immersion Hand Blender with Chopper by BioloMix. This versatile kitchen marvel is a game-changer for food enthusiasts, home chefs, and busy parents who want to create delicious dishes effortlessly.
Key Features that Set Our Hand Blender Apart
High-Performance Blender: With a robust 1200W motor and two razor-sharp 304 stainless steel blades, this hand blender can tackle a wide range of blending tasks, from baby food and soups to juices and smoothies. Experience quiet and efficient blending every time.
Adjustable Speeds & Turbo Mode: The BioloMix hand blender offers six adjustable speeds and a turbo button for your convenience. Easily tailor the blending speed to suit different foods and cooking needs, giving you full control over your culinary creations.
Complete Set of Accessories: This package includes a 600ml mixing beaker, whisk attachment, 500ml chopper attachment, and a power cord. It's the perfect combination for various kitchen tasks, such as crafting smoothies, milkshakes, soups, and baby food.
User-Friendly & Easy to Clean: The detachable shaft design makes cleaning a breeze. Simply rinse it under warm tap water or place it in the top rack of your dishwasher (just remember not to immerse the motor). With one-handed operation, you'll be blending like a pro in no time.
Efficiency Meets Safety
Operation Time Guidelines: While this hand blender is a powerhouse, it's essential to adhere to safety guidelines. For continuous operation with the whisk attachment, keep it under one minute. For the blender attachment, don't exceed 30 seconds of continuous use. When using the chopper attachment, limit operation to 20 seconds, and ensure a minimum 10-minute break between three operation cycles for optimal performance.
Specifications:
Brand: BioloMix
Model: BHB1200 Stainless Steel Immersion Hand Blender
Material: Stainless steel and BPA-free plastic
Speed: 6 speeds
Color: Black
Voltage: 220-240V, 50/60Hz (Power 1200W); US plug 100-120V 60Hz (Power 800W)
Power: 1200W Max
Plug Options: EU/UK/US (AU plug will come with a suitable adapter if you select that option)
What's Included in the Package:
1 x Handheld Blender
1 x 500ml Chopping Bowl
1 x 600ml Blending Beaker
1 x Whisk
1 x English & Russian Manual
Discover the joy of effortless food preparation with the Powerful Immersion Hand Blender with Chopper by BioloMix. Whether you're whipping up a quick smoothie or creating a gourmet meal, this 4-in-1 hand blender is your ideal kitchen companion. Get it now and elevate your culinary experience!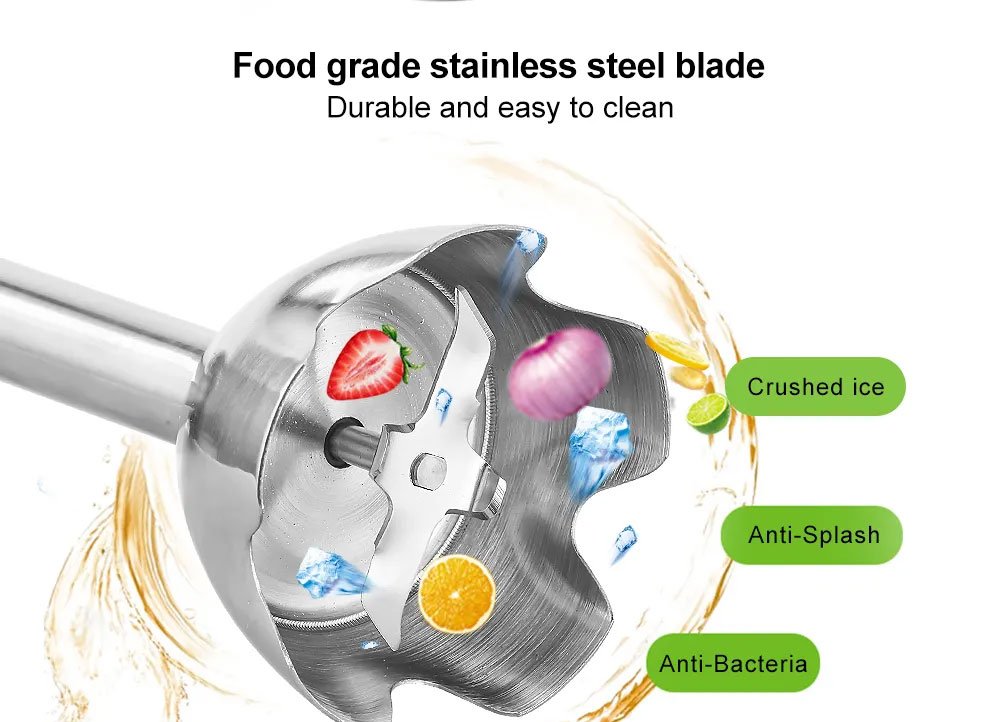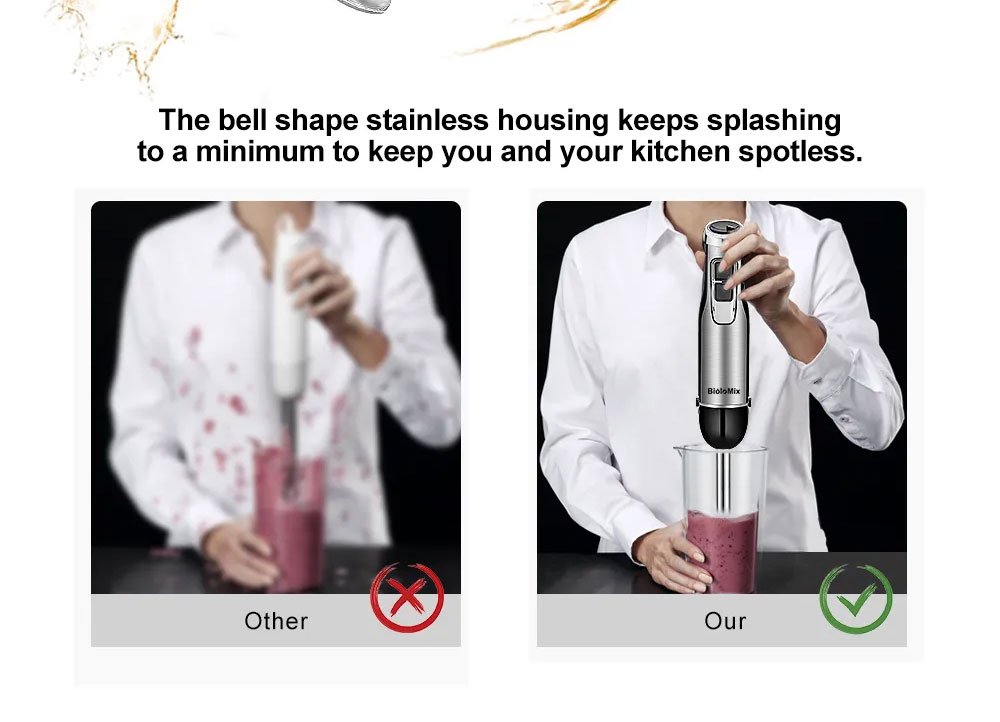 Keep in Touch
Follow us on social media. Facebook. Instagram. Pinterest.

Customer Testimonials:
Sarah T.-⭐⭐⭐⭐⭐
I cannot express how much I love my BioloMix Powerful Immersion Hand Blender with Chopper. As a busy parent, it has become my go-to kitchen companion. The 1200W motor makes blending a breeze, and the adjustable speeds cater to my diverse cooking needs. The included accessories are a real bonus, and cleanup is a snap. I can't imagine my kitchen without it!
Michael R.-⭐⭐⭐⭐⭐
The BioloMix hand blender is a true workhorse. I use it daily to whip up smoothies and purees for my little one. The 4-in-1 design is a lifesaver, and the sharp stainless steel blades make quick work of even the toughest ingredients. I've recommended it to all my friends. It's a must-have for any kitchen.
Emma L.-⭐⭐⭐⭐⭐
I'm not a professional chef, but this hand blender makes me feel like one! The turbo mode is a game-changer, and the variety of attachments is a dream come true. I've used it for soups, sauces, and even to make homemade baby food. It's an absolute must for anyone who enjoys cooking.
Mark S.-⭐⭐⭐⭐⭐
This hand blender has revolutionized my kitchen routine. The 1200W power and adjustable speeds allow me to prepare meals faster and with better consistency. I especially appreciate the easy cleanup, and the safety guidelines ensure I use it without any worries. It's become an indispensable tool in my kitchen.
Lisa C.-⭐⭐⭐⭐⭐
I've owned other hand blenders before, but the BioloMix is a cut above the rest. The stainless steel build feels solid and durable, and the performance is top-notch. The included accessories cover all my culinary needs, and the simple one-handed operation is a huge plus. This hand blender has earned a permanent spot on my kitchen countertop.
Don't just take our word for it; these satisfied customers can attest to the excellence of the BioloMix Powerful Immersion Hand Blender with Chopper. Join the ranks of happy users and experience the difference in your kitchen today!