Car and Home Rice Cooker Power: Your Culinary Companion Everywhere!
Looking to elevate your culinary adventures on the road and at home? Our Car and Home Rice Cooker Power is the answer you've been searching for. Crafted for versatility and ease, this compact powerhouse is designed to deliver hot and delicious meals wherever you are.
Explore the Features:
1. Portable Mini Wonder
Experience culinary freedom with a portable mini rice cooker that fits seamlessly into both your car and home setup. Never compromise on delicious meals, no matter where you go.
2. Cook and Steam Simultaneously
Efficiency at its best! Our Car and Home Rice Cooker lets you cook and steam your favorite dishes simultaneously, saving you time and energy.
3. Multi-functionality for Every Need
Whether it's a hearty stew, flavorful rice, or a comforting soup, this cooker has got you covered. The multi-functionality caters perfectly to 4-6 people, making meal prep a breeze.
Benefits That Matter:
Ultimate Convenience: Cook and enjoy hot meals on the road, providing comfort and nutrition during your journeys.
Durable and Safe Materials: Crafted from food-grade stainless steel and a non-stick inner pot, our cooker ensures both durability and safety. Cleaning is a breeze with the detachable components.
Easy Operation: The intuitive control panel with LED display offers 4 application options and 2 function selections, including keep warm and appointment settings. Effortless and fast!
Adaptable Power Options: With universal compatibility (12V/24V, 220V), this cooker easily plugs into your power source, whether it's your car or home power station.
Take the First Step Toward Culinary Delight!
Join the ranks of satisfied customers who've revolutionized their culinary experiences with the Car and Home Rice Cooker Power. Embrace the freedom of cooking on the go and relish hot, homemade meals wherever life takes you.
Grab yours today and redefine mealtime, whether on the open road or in the comfort of your home!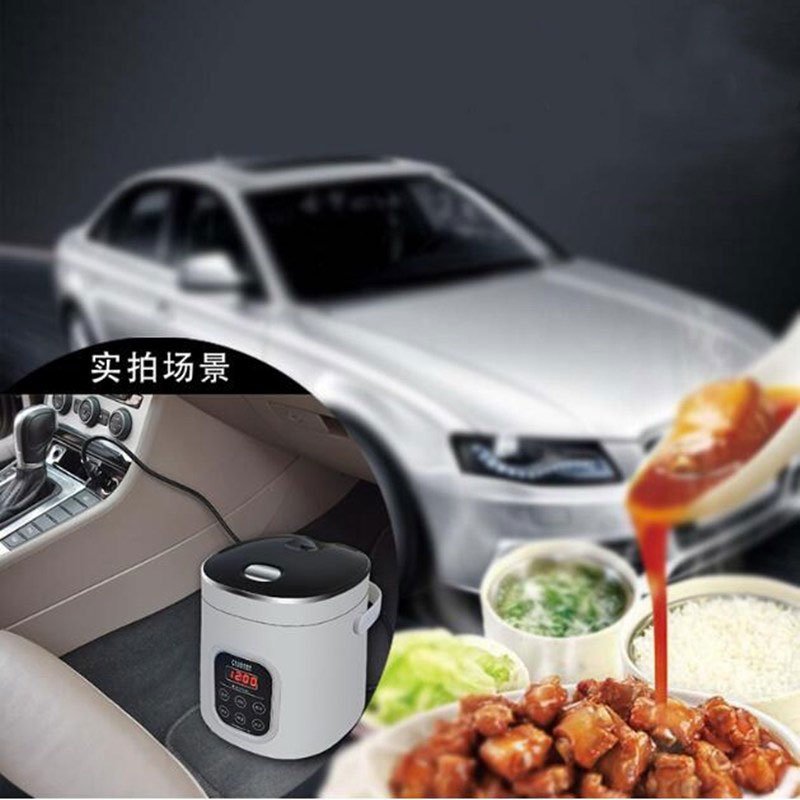 Keep in Touch
Follow us on social media. Facebook. Instagram. Pinterest.

Testimonials from Satisfied Customers
⭐⭐⭐⭐⭐
Laura B. "The Car & Home Rice Cooker Power has been a game-changer for my road trips. From perfectly cooked rice to delicious stews, it's like having a portable kitchen right in my car. Couldn't be happier with this purchase!"
⭐⭐⭐⭐⭐
John S. "I'm a frequent traveler, and this cooker has become my trusty companion. I can easily switch between power options, and the non-stick pot makes cleaning a breeze. Highly recommend to anyone looking for a versatile and compact rice cooker."

⭐⭐⭐⭐⭐
Sarah D. "I love camping, and this portable rice cooker has made outdoor cooking so much more enjoyable. The steamer tray is a brilliant addition, allowing me to prepare a variety of dishes. It's definitely a must-have for any camper!"
⭐⭐⭐⭐⭐
David M. "Being a trucker, finding hot and healthy meals on the road was always a challenge. But with the Car & Home Rice Cooker Power, I can now cook nutritious meals right in my truck. It's a lifesaver during those long hauls."
⭐⭐⭐⭐⭐
Emily F. "This rice cooker exceeded my expectations! The control panel is user-friendly, and the steamer tray lets me cook a complete meal. It's the perfect size for my small kitchen at home too. Highly recommended for its versatility and convenience."