Effortless Efficiency: Introducing the Electric Mini Garlic Chopper
Intelligent electric garlic machine rechargeable
Enhance Your Cooking Experience with the Electric Mini Garlic Chopper
Are you tired of spending precious minutes chopping garlic, ginger, or chili by hand? Say goodbye to the hassle and hello to the Electric Mini Garlic Chopper! With its stainless steel blade and sturdy plastic shell, this compact kitchen tool is designed to make your culinary adventures a breeze.
Efficiency Meets Durability
Experience the power of efficiency and durability with the Electric Mini Garlic Chopper. Its stainless steel blade effortlessly cuts through ingredients, ensuring a quick and thorough chopping process. No more struggling with a knife and cutting board. This handy device lets you whip up your favorite recipes in record time.
A Multifunctional Masterpiece
Unleash your creativity in the kitchen with this multifunctional marvel. The Electric Mini Garlic Chopper is not just limited to garlic—it can also handle ginger, chili, ground meat, and flour and even serve as a supplementary food processor. Prepare your favorite sauces, marinades, and dressings easily, and take your cooking skills to the next level.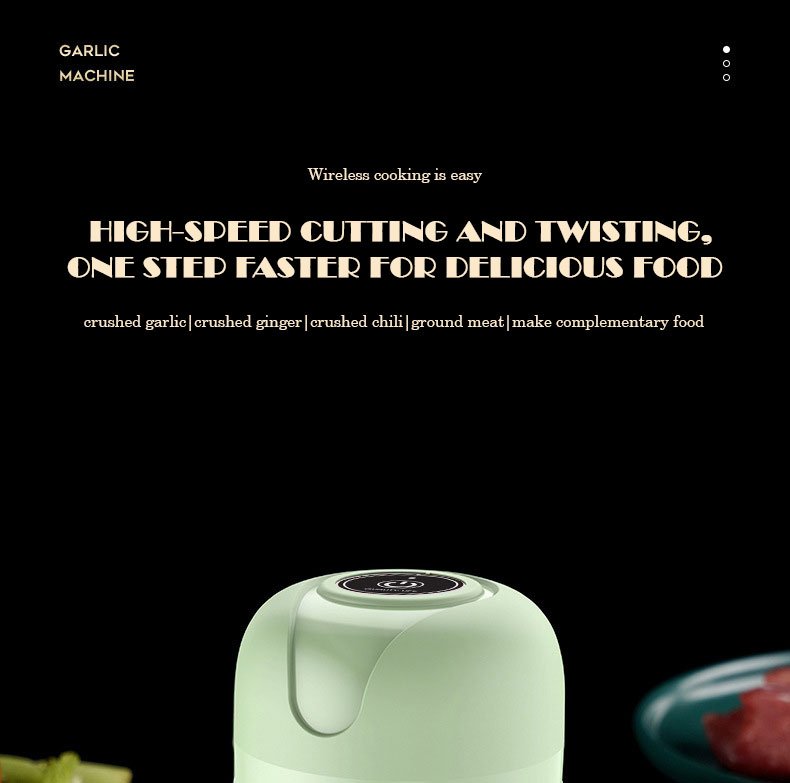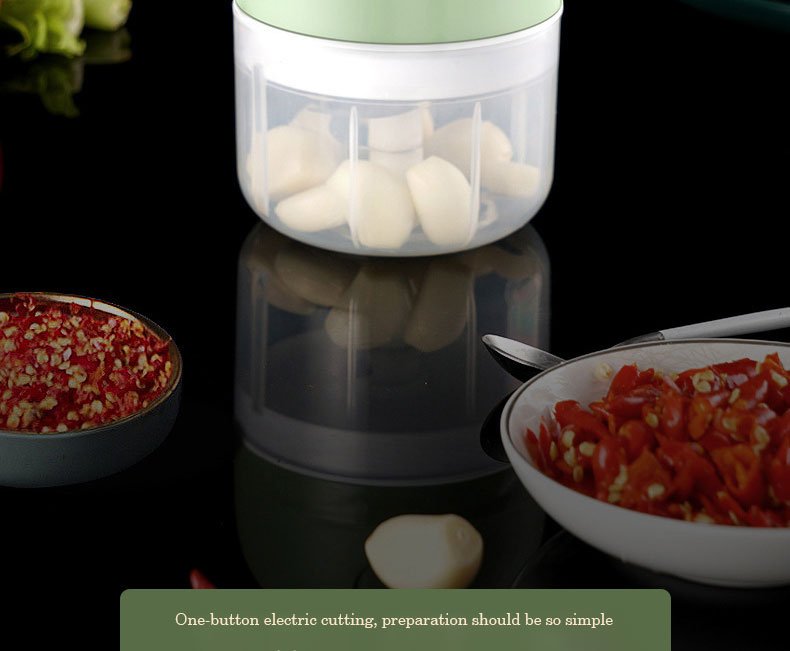 Quick and Convenient
Experience Lightning-Fast Chopping with the Electric Mini Garlic Chopper
Transform your cooking routine with the Electric Mini Garlic Chopper. Its quick chopping capabilities will revolutionize preparing ingredients, saving you time and effort in the kitchen.
Lightning-Fast Precision
Harness the power of the sharp stainless steel blade in the Electric Mini Garlic Chopper. It can swiftly chop garlic, spices, nuts, vegetables, meat, and even ice cubes within seconds. No matter the task, this compact chopper guarantees precision and efficiency.
Perfect for Small Foods
Do you find yourself needing to chop small ingredients frequently? The Electric Mini Garlic Chopper is tailor-made for the job. Its compact size and powerful blade make it the ideal companion for tackling those tiny food items that can be tedious to chop by hand. From garnishes to finely minced herbs, this chopper has got you covered.
Versatile and Convenient
Simplify your kitchen routine with this versatile device. The Electric Mini Garlic Chopper isn't just a one-trick pony—it's your go-to tool for various culinary tasks. Whether preparing meals for your family or making smoothie drinks, this chopper will make the process a breeze. It can even help you supplement your baby's food quickly and conveniently.
Easy Cleaning, Hassle-Free Maintenance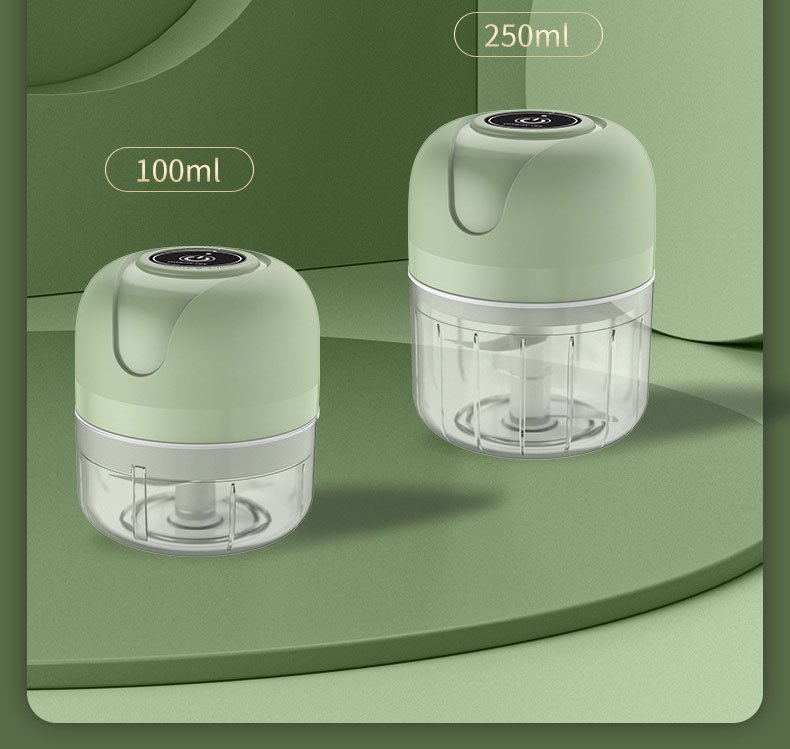 Spend Less Time Cleaning, More Time Enjoying Your Meals
With the Electric Mini Garlic Chopper, cleaning up is a breeze. We understand that after a delicious meal, the last thing you want to do is spend hours scrubbing and washing kitchen utensils. Because of this, we made sure to create a chopper that is simple to clean.
Simple Operation
Operating the Electric Mini Garlic Chopper couldn't be easier. Place your ingredients into the cup, close the lid securely, and press the power button. Watch as the powerful blade swiftly chops your ingredients to perfection. Say goodbye to complex processes and hello to effortless chopping.
Separable Components for Easy Cleaning
Cleaning up after your culinary adventures is a breeze with the Electric Mini Garlic Chopper. The bowl and blade can be easily separated, allowing for thorough cleaning and ensuring no lingering odors or residue remain. Spend less time scrubbing and more time savoring the flavors of your meals.
Product Specifications:
Material: Stainless steel blade/ Plastic shell

Capacity: 250ML

Color options: Black/Green/White

Product use: crushed garlic/ crushed ginger/ crushed chili/ ground meat/ flour/ used as supplementary food