Wall-Mounted Infrared Thermometer GP-100 Plus: Your Health Guardian
Discover the Smart Way to Monitor Temperature
Keeping your space safe has never been easier with our Wall-Mounted Infrared Thermometer GP-100 Plus. Revolutionize the way you monitor temperatures with this cutting-edge device. Here's why it's a must-have for any environment:
No Contact, No Hassle
Say goodbye to traditional thermometers that require contact. Our infrared thermometer allows you to measure temperatures without touching the forehead. The non-invasive technology ensures accurate readings from a distance of 5 to 10 cm.
Precision at Its Best
With a remarkable accuracy tolerance of +/- 0.2 degrees Celsius in the range of 34 to 45 degrees Celsius, you can trust the GP-100 Plus for precise temperature monitoring. Receive instant and reliable results, giving you peace of mind in any setting.
Quick Response, Continuous Protection
In just 500 milliseconds, this thermometer provides swift temperature readings. The automatic alarm for abnormal temperatures ensures immediate alerts, with a red light flashing and a continuous "Di, Di…" alarm sound, keeping your space secure.
Versatile Placement Options
Whether you prefer hanging, double-sided adhesive tape, or bracket fixed placement, the GP-100 Plus adapts to your needs. Its digital display offers clear visibility, and the device operates in ambient temperatures ranging from 5 to 45 degrees Celsius.
Easy Certification, Trusted Quality
Rest easy knowing the GP-100 Plus is CE, ROHS, and FCC certified. It meets the highest industry standards for quality and safety, making it a reliable choice for temperature monitoring.
Pros and Cons
Pros:
No-contact measurement for added safety
Swift response time of 500 milliseconds
Versatile placement options for convenience
Automatic alarm for abnormal temperatures
Cons:
Limited temperature measurement range (0 to 80 degrees Celsius)
Specifications
Measurement Method: Infrared, No Contact
Theory: Fahrenheit and Centigrade
Accuracy Tolerance: +/- 0.2 (34 ~ 45 degrees Celsius)
Distance: 5 ~ 10 cm
Placement: Hanging / Double-sided Adhesive Tape / Bracket Fixed
Display: Digital
Measuring Temperature: 0 ~ 80 degrees Celsius
Ambient Temperature: 5 ~ 45 degrees Celsius
Response Time: 500 MS
Working Wave: 5 microns
Standby: 5 s
Certification: CE, ROHS, FCC
Upgrade your temperature monitoring experience with the Wall-Mounted Infrared Thermometer GP-100 Plus. Ensure the safety of your surroundings effortlessly. Order yours now!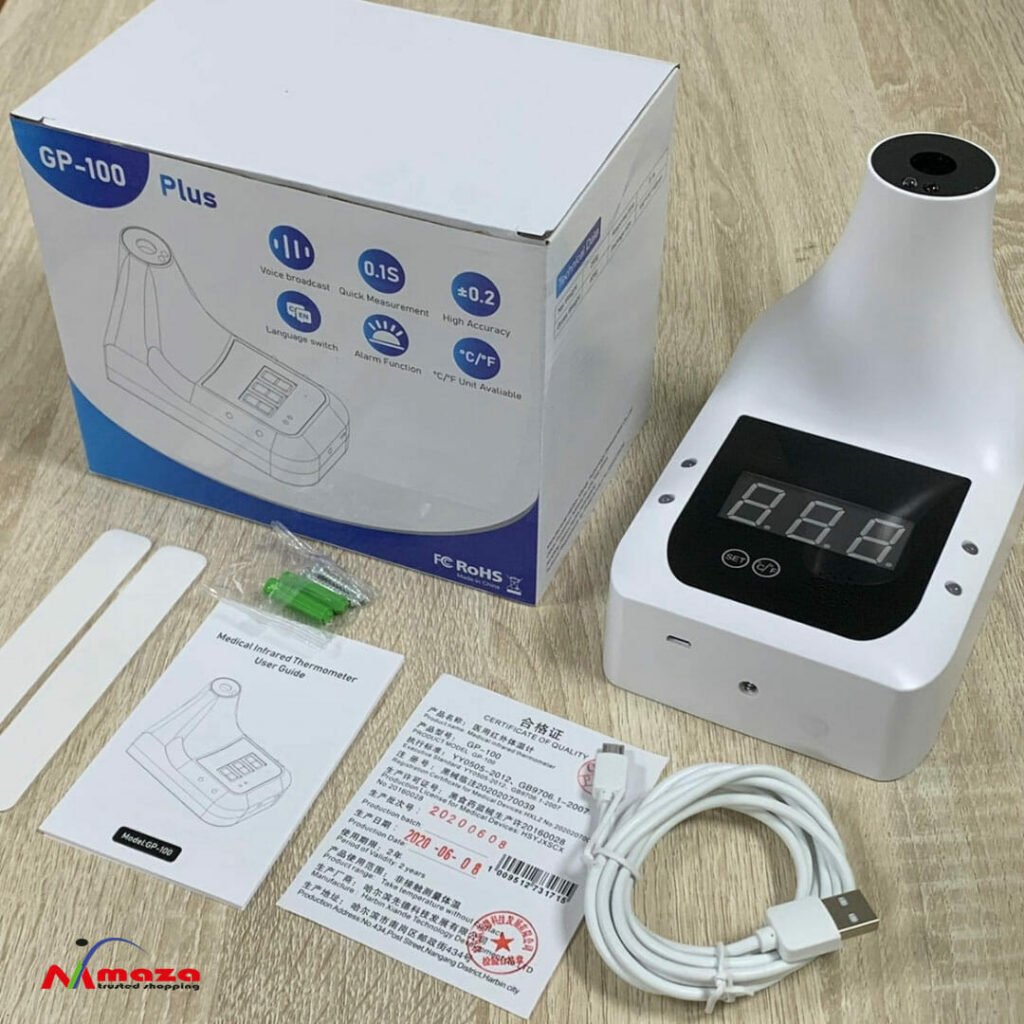 Keep in Touch
Follow us on social media. Facebook. Instagram. Pinterest.

Customer Testimonials:
Sansa M.-⭐⭐⭐⭐⭐
"This infrared thermometer is a game-changer! The non-contact feature adds an extra layer of safety, and the quick response time gives me peace of mind. It's easy to install and has become an essential part of our daily routine."
Ruwan W.-⭐⭐⭐⭐
"I was skeptical at first, but the GP-100 Plus proved its worth. The accuracy is spot-on, and the automatic alarm feature is a lifesaver. It's versatile in placement, and the digital display is clear. Definitely recommend for anyone looking for reliable temperature monitoring."
Emily L.-⭐⭐⭐⭐⭐
"As a business owner, ensuring a safe environment for my customers is a top priority. The GP-100 Plus has made temperature monitoring effortless. The certification gives me confidence in its quality. A great investment for any space!"
Rasika D.-⭐⭐⭐⭐
"While the temperature range is a bit limited, the overall performance is excellent. The no-contact method is a big plus, and the device is simple to use. It's become an indispensable tool for our family, especially during these times."
Ensure the safety of your space with the Wall-Mounted Infrared Thermometer GP-100 Plus—trusted by real customers. Join the satisfied users who have made temperature monitoring hassle-free. Order now and experience the difference!
FEEDBACK:
If you are happy with your purchase, please leave us positive feedback and give us the highest ratings. If you are not happy, please give us the opportunity to make it right.
Please DO NOT leave negative feedback. If there is any problem, please contact us, we will do our best to resolve the issue as soon as possible. We aim to provide the highest quality of service.
Your comments are very important to our business success. If you are satisfied with the purchase and our service, please take a minute to give us positive feedback, as well as leave us 5-star ratings.