Effortless Beauty Organization: Meet the 360 Rotation Cosmetic Organizer!
Discover Effortless Access with 360° Rotation
Looking for a seamless makeup organization solution? Our 360 Rotation Cosmetic Organizer is here to revolutionize your beauty routine. With its 360° rotating design, you can effortlessly access your makeup and skincare products with just a spin. Never waste time searching for your favorites again!
Large Capacity: Hold up to 30 makeup brushes, 20 skincare products, and more. Keep your dressing table neat and organized.
360° Rotatability: Easily reach every item, thanks to the smooth 360° rotation. Grab what you need without any hassle.
Practical Design: With 3 tiers and a size of 24×31cm, this organizer fits various items, making it versatile for any space.
Crafted for Convenience: Unique Features at Your Fingertips
Our cosmetic organizer brings you an array of features designed to simplify your daily routine and elevate your beauty setup.
Convenient Fetching: Fetch your desired products in seconds with easy rotation and optimal tire height placement.
Clear and Chic: The clear design complements any decor, making it a stylish addition to your dressing room or bathroom.
Perfect Gift Choice: With 8 components, 16 rubber rings, and easy installation, this organizer is an ideal gift for any beauty enthusiast.
Quality and Durability: Beyond the Surface
Crafted from durable acrylic, our rotating makeup organizer is built to last. The high-quality material ensures its longevity, providing a reliable solution for your cosmetic storage needs.
Easy to Clean: Simply wipe with soap and warm water for hassle-free maintenance.
Multi-functional: Not just for makeup! Use it for beverages, stationery, office supplies, and more.
Space-Saving Brilliance: Save precious counter space while keeping everything in perfect order.
Simplify Your Beauty Routine: Order Yours Today!
Enhance your daily routine and redefine your makeup storage experience with our 360 Rotation Cosmetic Organizer. Say goodbye to cluttered countertops and hello to effortless beauty organization. Order now and elevate your makeup game with style and convenience!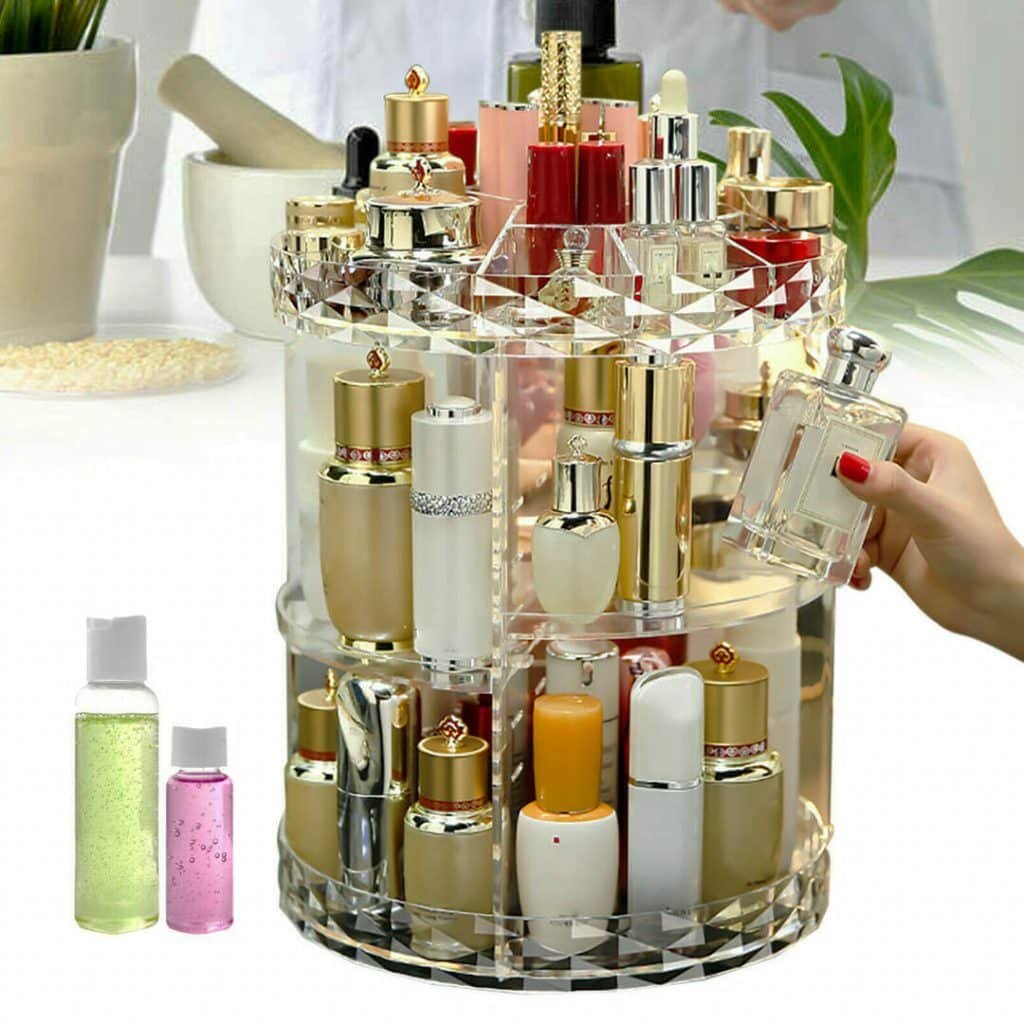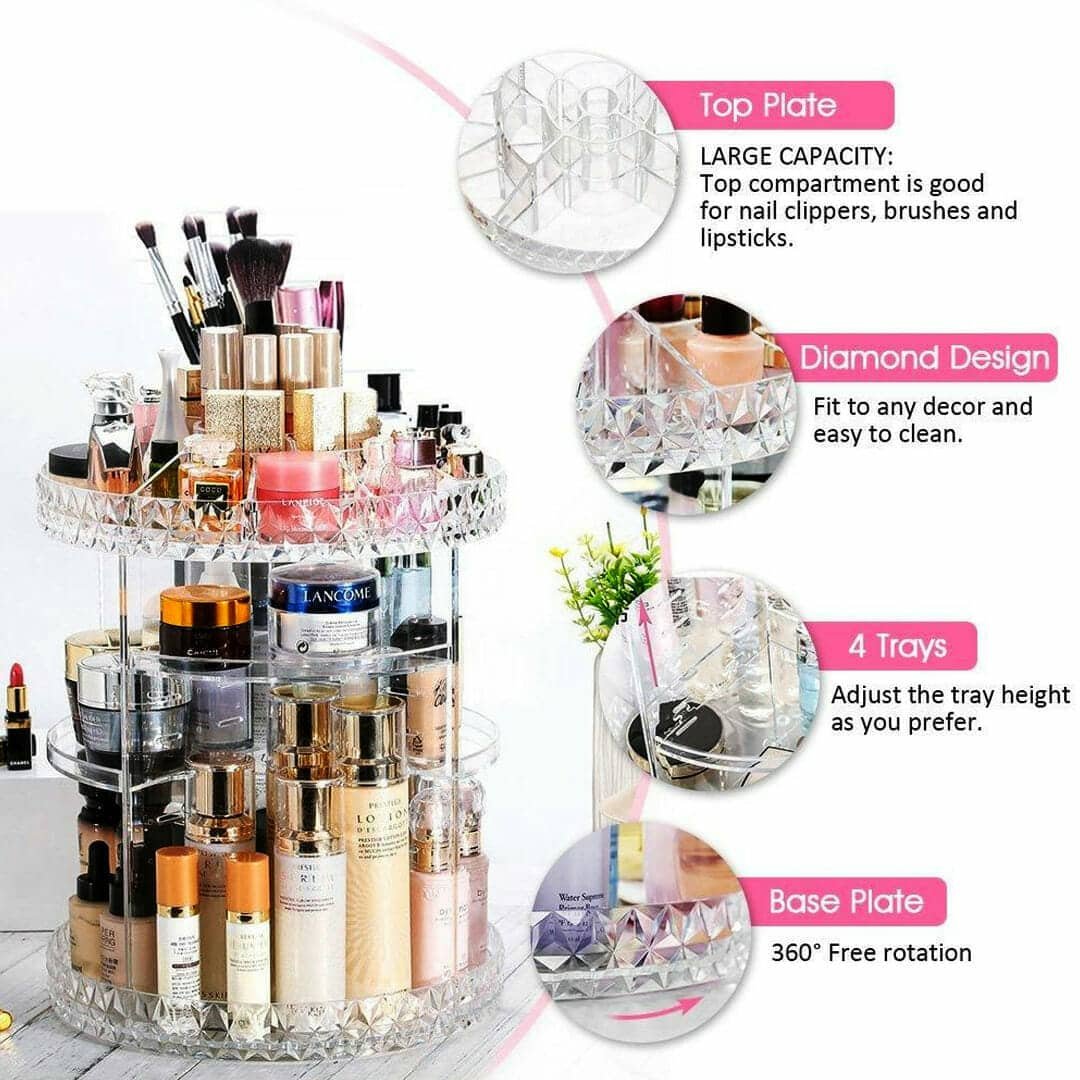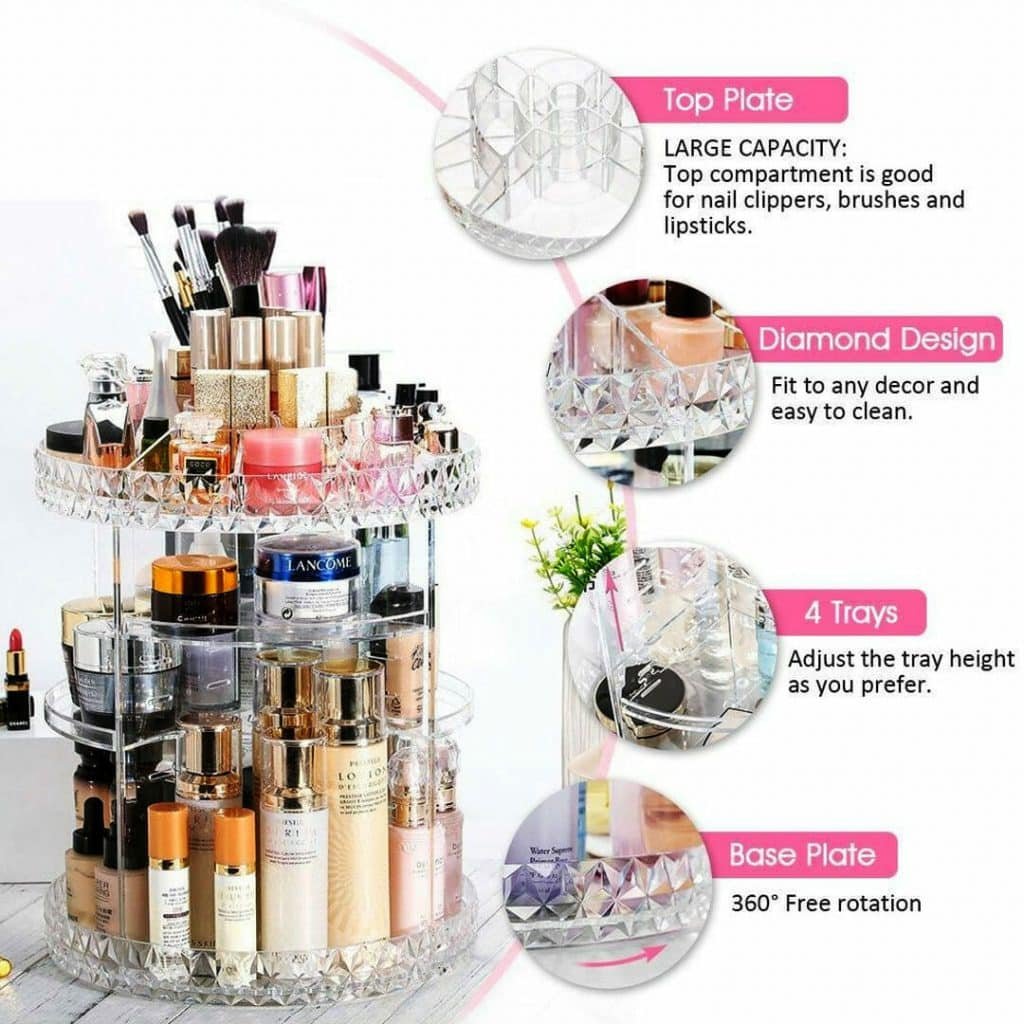 Keep in Touch
Follow our social media. Facebook. Instagram. Twitter. Pinterest.
FEEDBACK:
If you are happy with your purchase, please leave us positive feedback and give us the highest ratings. If you are not happy, please give us the opportunity to make it right.
Please DO NOT leave negative feedback. If there is any problem, please contact us, and we will do our best to resolve the issue as soon as possible. We aim to provide the highest quality of service.
Your comments are very important to our business success. If you are satisfied with the purchase and our service, please take a minute to give us positive feedback, as well as leave us 5-star ratings