Transform Your Meals with the 3-in-1 Hand Spiralizer
Craft Culinary Magic with Effortless Precision
Unleash your inner chef and elevate your meals to a new level of creativity with our Vegetable & Fruits Slicer and Chopper 3-in-1 Hand Spiralizer. This versatile kitchen companion is designed to bring excitement and ease to your cooking adventures, creating uniform curly noodles from an array of vibrant vegetables and fruits. Get ready to reimagine your favorite recipes and introduce a delightful twist to your culinary repertoire.
Masterful Curves: Your Culinary Canvas Awaits
From Veggies to Fruits: Spiralize with Finesse
Experience the joy of culinary artistry as you spiralize vegetables and fruits into uniform, mesmerizing curly noodles. Our 3-in-1 Hand Spiralizer boasts an array of possibilities, letting you transform zucchinis, carrots, apples, and more into visually stunning and appetizing works of art. Whether you're aiming for a striking garnish or a wholesome alternative to traditional pasta, this spiralizer delivers precise results every time.
Designed for Simplicity: Innovate, Create, Enjoy
Spiralize with Ease, Indulge with Confidence
Gone are the days of complex kitchen gadgets and confusing instructions. Our Vegetable & Fruits Slicer and Chopper feature an easy-to-use, self-aligning design that keeps your food straight as you twist, ensuring effortless and consistent results. The intuitive container base collects your spirals as you cut, making meal preparation a breeze. Say hello to culinary innovation without the hassle.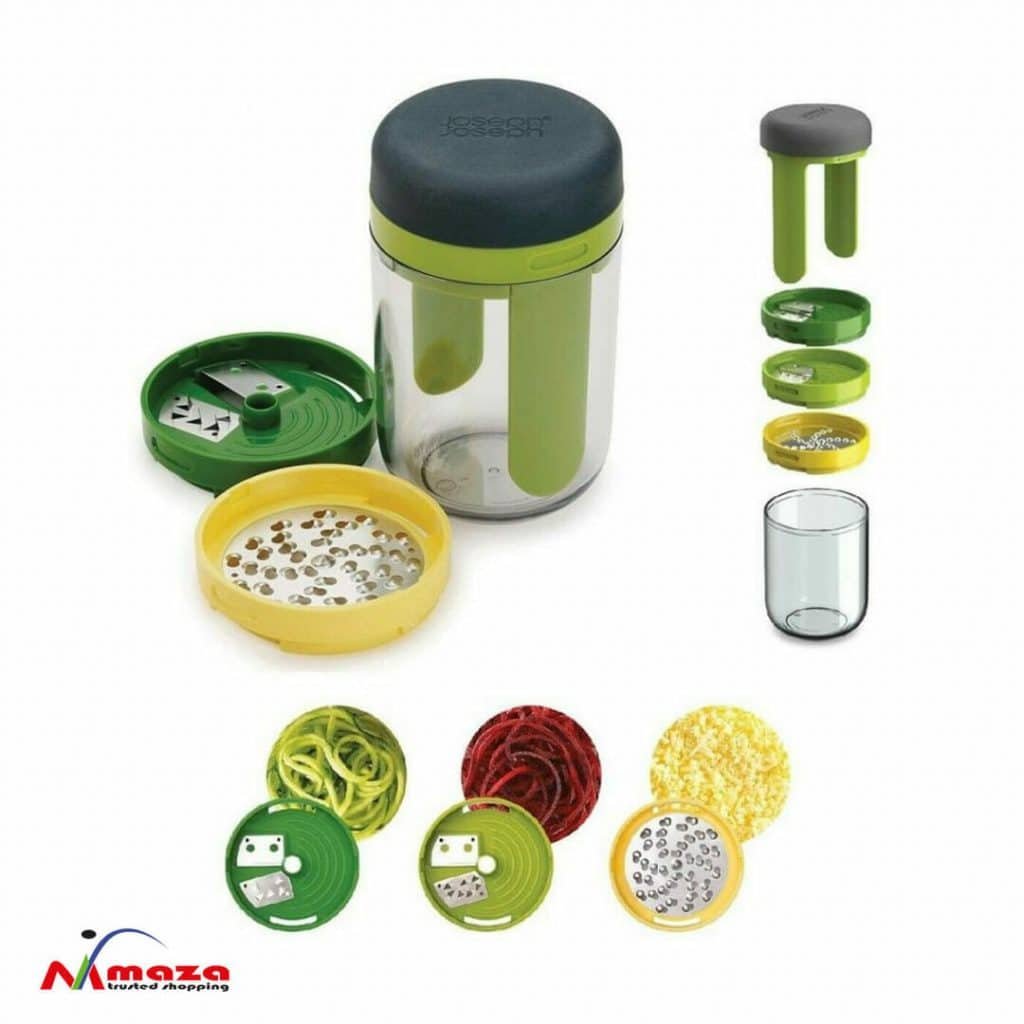 Keep in Touch
Follow our social media. Facebook. Instagram. Twitter. Pinterest.


Customer Review
I am absolutely thrilled with the Vegetable & Fruits Slicer and Chopper 3-in-1 Hand Spiralizer! It has completely transformed the way I prepare meals. The different spiralizer blades make it so easy to create beautiful curly noodles from a variety of veggies and fruits. I love how the self-aligning design keeps everything straight as I twist, ensuring consistent results every time. And the container base is a game-changer – no more mess on the countertop! The soft-grip handle makes it comfortable to use, and the compact storage is a bonus. This spiralizer has truly sparked my culinary creativity, and I'm having so much fun experimenting with different dishes. It's become an essential tool in my kitchen!