Silicone Kitchen Utensils High Heat Resistant—Your Kitchen's Best Companion!
Unleash Your Culinary Creativity with Our 12-Piece Set
Introducing the Silicone Kitchen Utensils High Heat Resistant – a 12-piece set with wooden handles specially designed to elevate your cooking experience. Crafted to meet the demands of the modern kitchen, these utensils are your loyal allies when it comes to high-temperature cooking. Let's dive into the details:
Pros:
High Temperature Resistant: Engineered from premium silicone, our utensil set can handle the heat like a pro, making them perfect for hot liquids and high-temperature cooking.
Non-Stick Wonder: The non-stick surface ensures food effortlessly glides off, simplifying cleaning and maintenance. No more stuck-on mess to deal with!
Eco-Friendly Combo: With wooden handles and silicone craftsmanship, our utensils are not only eco-friendly but also safe for your kitchen and the planet.
Stay Organized: We've included a handy storage bucket, so you can keep your utensils neatly organized and easily accessible.
Cons:
Color Choices: While we offer a variety of colors to suit your style, color options are limited.
Product Specifications:
Food-Grade Silicone: Our cooking tools are made from food-grade silicone, free from harmful BPA or plastic materials.
Ergonomic Wooden Handles: Natural beech wood handles offer a comfortable grip and feature convenient hanging holes for easy storage.
Easy Cleaning: Quick and simple cleanup; just immerse them in water with a dash of kitchen cleaner.
Built to Last: The silicone construction and heat-resistant handles ensure long-lasting durability, so you can rely on them daily.
No More Food Sticking: Say goodbye to the frustration of food sticking to your cookware; our utensils make cooking a breeze.
Perfect Gift: Ideal for cooking enthusiasts and a fantastic choice for housewarming or wedding parties, this set is sure to impress.
Silicone Kitchen Utensils Specifications:
Material: Silicone
Color Options: Light green, red, black
Weight: Approximately 830g
Size: Various dimensions for different utensils
Style: Modern minimalist
Function: Non-stick pan
In the box:
Your purchase includes 11 Wooden Handle Silicone Kitchen Utensils and 1 Storage Bucket. Upgrade your kitchen arsenal with these high-temperature-resistant wonders today and cook with confidence!
Ready to make your kitchen a culinary paradise? Get your Silicone Kitchen Utensils High Heat Resistant set now and enjoy cooking like never before. Order today and elevate your culinary game!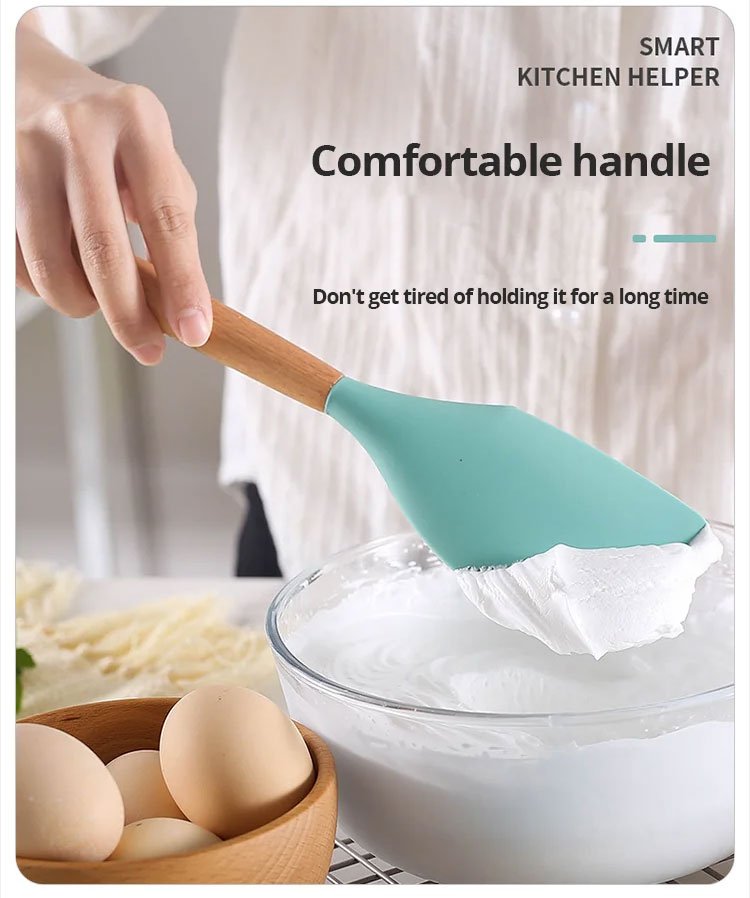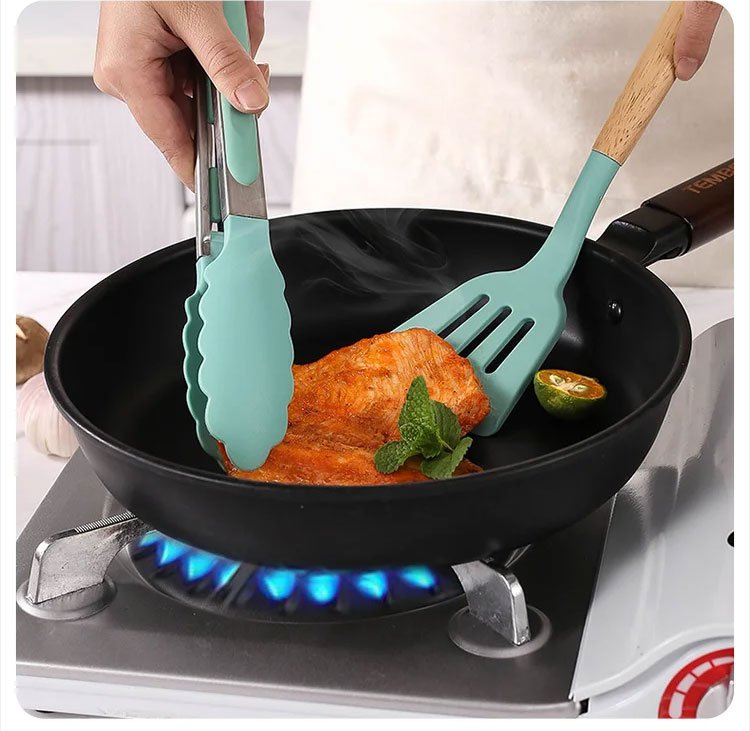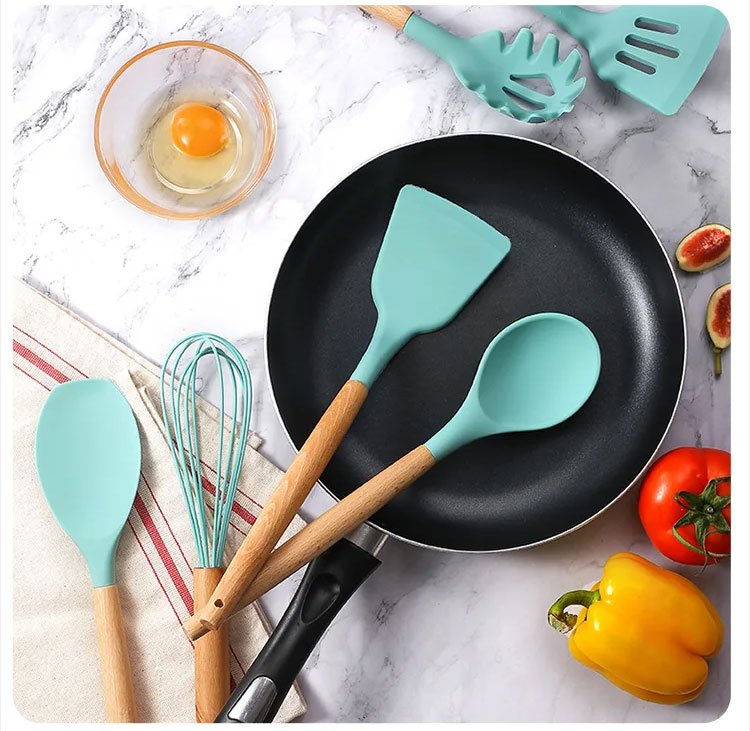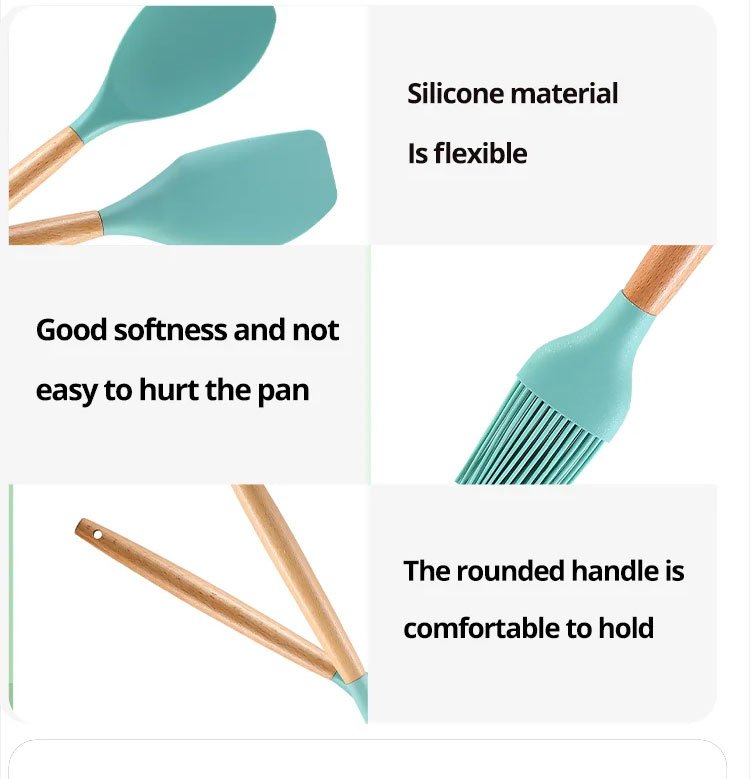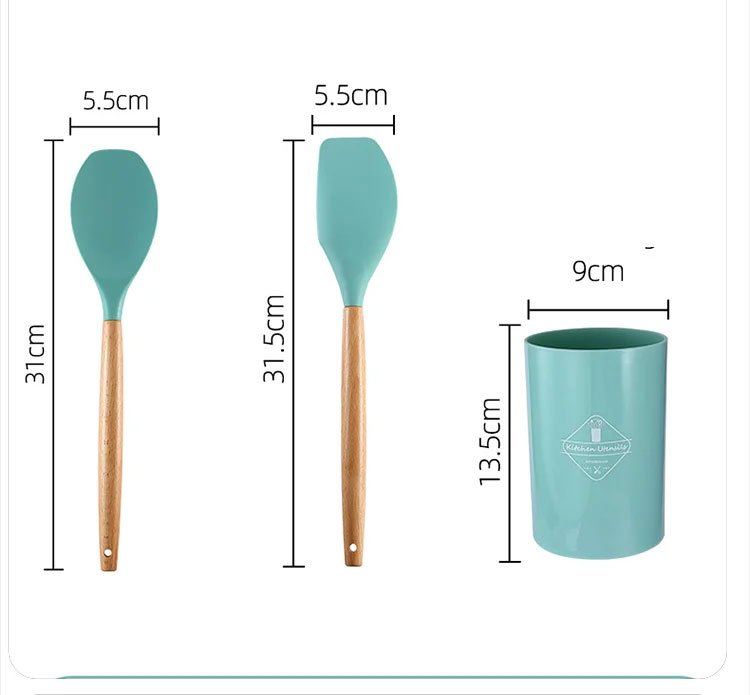 Keep in Touch
Follow us on social media. Facebook. Instagram. Pinterest.

Customer Testimonials:
 Sarah T.-⭐⭐⭐⭐⭐
"I am thrilled with my Silicone Kitchen Utensils set! These tools are not only incredibly heat resistant, but they also make cooking a breeze. The non-stick surface is a game-changer. Plus, the wooden handles are so comfortable to hold. I can't recommend these enough!"
Mark R.-⭐⭐⭐⭐⭐
"I've used many different kitchen utensils over the years, but these Silicone Kitchen Utensils are hands down the best I've ever had. They're durable, easy to clean, and they look fantastic in my kitchen. I've already recommended them to all my friends."
Chef Amanda-⭐⭐⭐⭐⭐
"As a professional chef, I demand the best from my kitchen tools. This set has exceeded my expectations. The heat resistance is perfect for my high-temperature cooking, and the non-stick surface is a dream. The wooden handles add a touch of elegance and comfort. I couldn't be happier!"
David M.-⭐⭐⭐⭐⭐
"These utensils have made my cooking experience so much better. No more frustration with food sticking to pans, and the easy cleanup is a time-saver. The storage bucket keeps everything organized. This set is a must-have for every kitchen!"
Jessica L.-⭐⭐⭐⭐⭐
"I received the silicone kitchen utensils as a gift, and I can't thank my friend enough. They've become an essential part of my kitchen. The high heat resistance and ergonomic design make cooking a joy. I even bought a set for my sister's housewarming, and she loves them too."
Alex B.-⭐⭐⭐⭐⭐
"I'm not a professional chef, but these utensils have made me feel like one! The quality is outstanding, and the wooden handles add a touch of sophistication. The non-stick surface is a game-changer, and cleanup is a breeze. I'd recommend these to anyone who loves cooking."
Emily S.-⭐⭐⭐⭐⭐
"The silicone kitchen utensils have made my cooking journey so much more enjoyable. They're a perfect blend of style and functionality. I use them every day, and they haven't shown any wear and tear. I love the storage bucket too; it keeps everything in order. Highly recommended!"
These testimonials showcase the satisfaction of our real customers who have experienced the excellence of our Silicone Kitchen Utensils High Heat Resistant Set. Join the ranks of happy users and elevate your cooking game today!