Revolutionize Your Kitchen with the Ultimate Spice Rack Organizer
Spice rack with jars Discover the Perfect Blend of Style and Functionality
Introducing our premium Revolving Spice Organizer – a game-changer for every culinary enthusiast! Elevate your cooking experience with this meticulously crafted spice rack, designed to bring convenience, durability, and style to your kitchen. Unleash your inner chef and embark on a journey of flavors like never before.
Unveiling the Features That Redefine Culinary Organization
Stainless Steel Core for Unmatched Durability Crafted from robust stainless steel, the core bracket of our spice rack ensures unwavering stability and durability. It's a testament to the quality that stands the test of time, allowing you to indulge in the joy of cooking with confidence.
Seal in Freshness with Moisture-Proof Magic Bid farewell to stale and clumpy spices! Our seasoning pots come with impeccable sealing, shielding your precious seasonings from moisture and water. Preserve the authentic aroma and taste of your spices for an unparalleled culinary sensation.
360-Degree Rotation for Effortless Access Efficiency meets elegance with our 360-degree rotating spice rack. Seamlessly navigate through your array of flavors, finding the perfect spice with a swift spin. The non-slip bottom adds an extra layer of stability, making every seasoning selection a breeze.
Designed for Precision, Crafted for Perfection Say goodbye to accidental spills and messy countertops. The ingeniously designed spice-filling mouth boasts an upward incline, preventing your precious seasonings from escaping. Keep your kitchen pristine and focus on the art of cooking.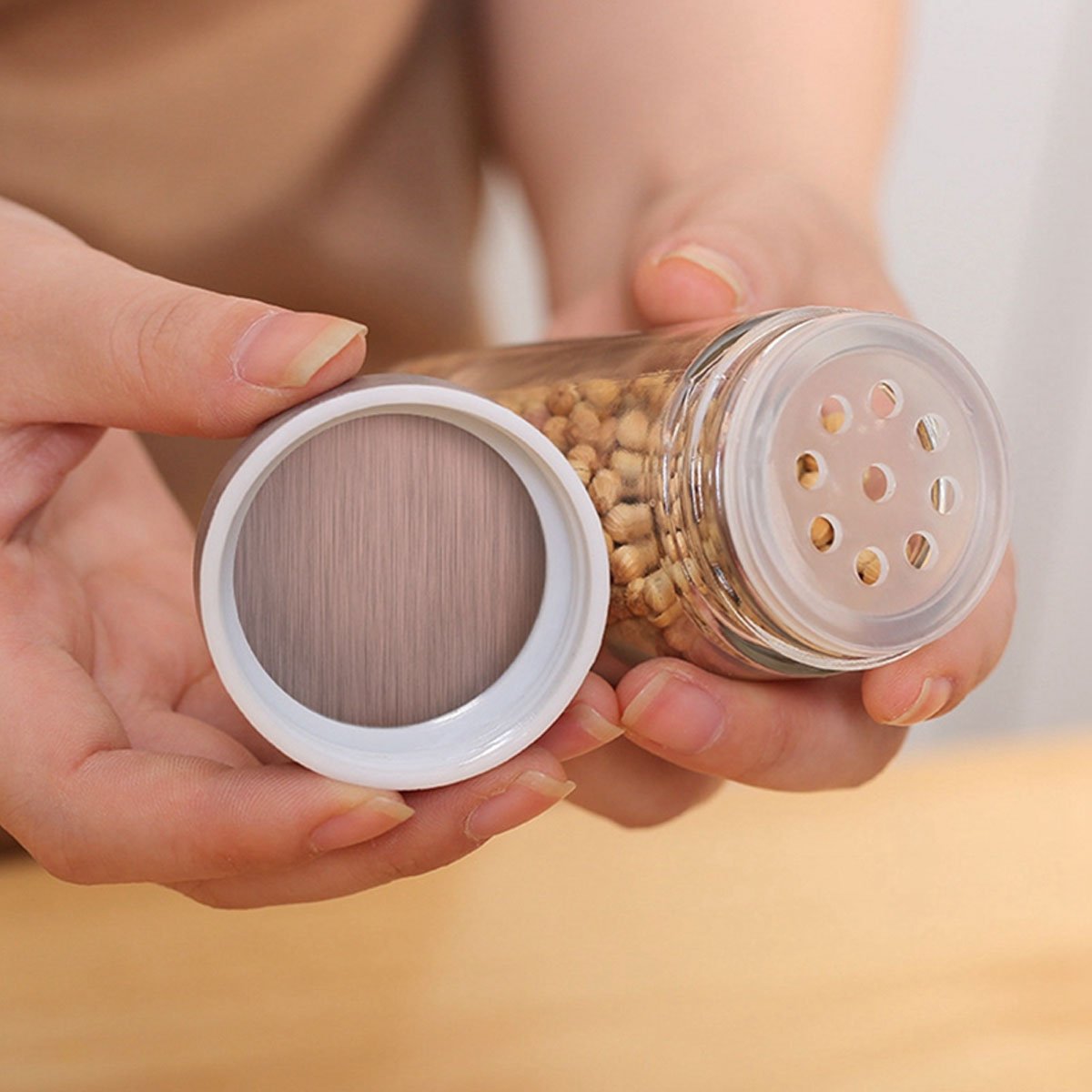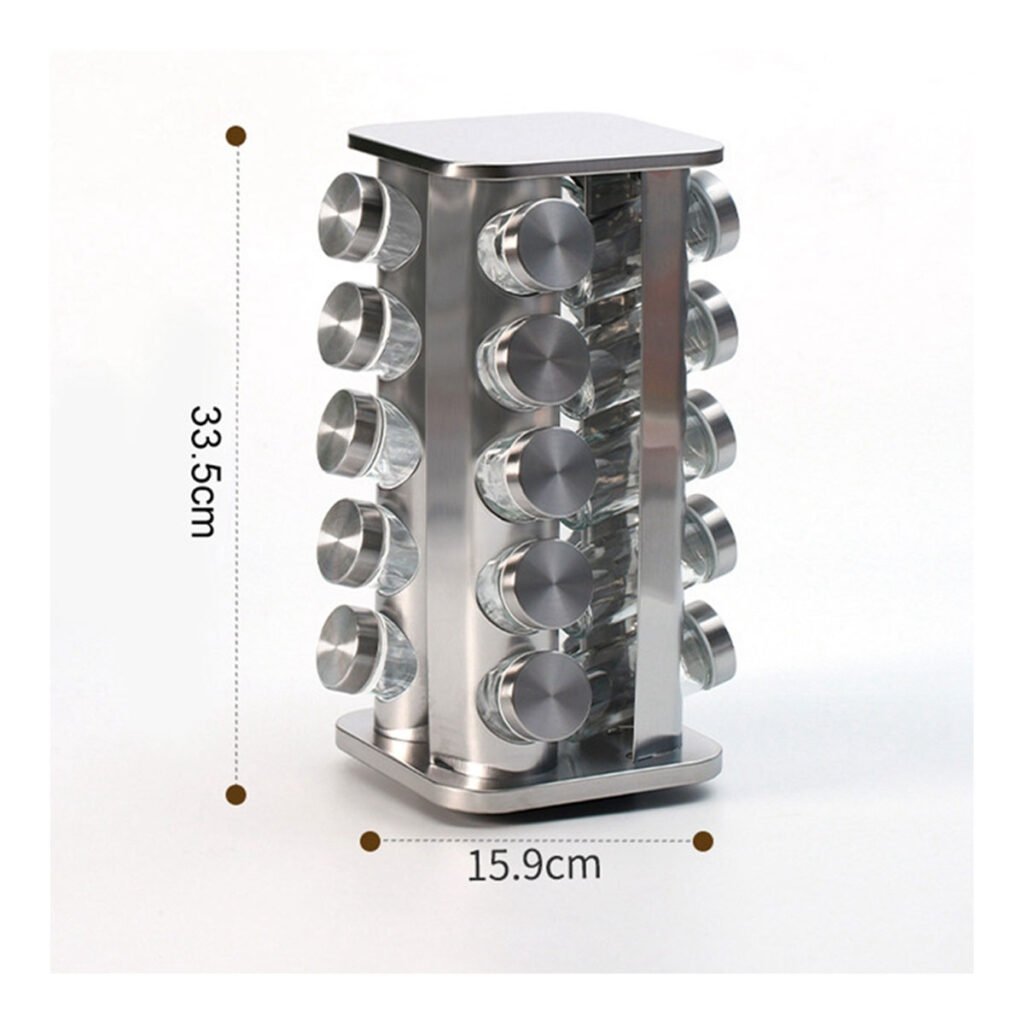 Elevate Your Culinary Space with Exquisite Design
Modern Aesthetics in Silver Accentuate your kitchen with a touch of modern elegance. The sleek silver color exudes sophistication, seamlessly blending in with any decor style. Make a statement with a piece that's as visually pleasing as it is functional.
Premium Materials for Lasting Impressions Crafted from a harmonious fusion of stainless steel and glass, our seasoning jars epitomize luxury and resilience. The transparency of glass beautifully showcases the vibrant hues of your spices, adding a visual delight to your culinary space.
Dimensions That Fit Like a Glove With dimensions of 15.9 x 33.5cm, our spice rack strikes the perfect balance between compactness and capacity. Maximize your countertop space while accommodating an impressive collection of 20 spice bottles.
Experience Culinary Harmony – Your Way
Package Delight Unwrap culinary delight with our thoughtfully curated package. Each set includes 1 x seasoning rack and 20 x spice bottles, empowering you to embark on your culinary journey without delay.
Reimagine Cooking: Unleash Your Culinary Creativity Today
Embrace the future of organized and efficient cooking. Elevate your kitchen aesthetics while reveling in the ease of access and durability our Revolving Spice Organizer brings. Turn your cooking space into a canvas of flavors and aromas – order now and awaken the chef within!
Keep in Touch
Follow our social media. Facebook. Instagram. Twitter. Pinterest.


Customer Review
I'm absolutely thrilled with my Revolving Spice Rack! The sleek design adds a touch of modern elegance to my kitchen, and the 360-degree rotation feature makes finding the perfect spice a breeze. The stainless steel core feels incredibly durable, and the moisture-proof seasoning pots keep my spices fresh and flavorful. Plus, the inclined filling mouth is a genius addition – no more spills! With its compact size, it fits perfectly on my countertop without taking up too much space. I love having all my favorite spices organized and easily accessible. This rack has truly elevated my cooking experience, and I couldn't be happier!