Porcelain Dinner Plates Set: Elevate Your Dining Experience
Upgrade your dining setup with our exquisite Porcelain Dinner Plates Set, featuring Gilt Rim Black Kitchen Dishes, Ceramics Tableware, Food Tray, Rice Salad, Noodles Bowl, and Cutlery Set. Crafted for those who appreciate sophistication and quality, this set adds a touch of elegance to every meal.
1-Price: 1,505.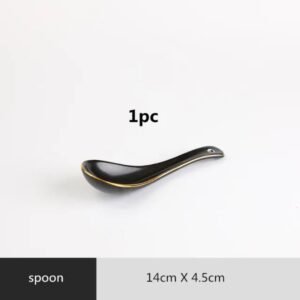 2-Price: 1,740.

3-Price: 3,115.

4-Price: 4,565.

5-Price: 4,865.

6-Price: 5,545.

7-Price: 5,960.

8-Price: 5,980.

9-Price: 6,845.

10-Price: 7,030.

11-Price: 6,880.

12-Price: 4,374.

13-Price: 22,490.

14-Price: 41,115.

15-Price: 74,480.

16-Price: 88,760.

17-Price: 111,040.

18-Price: 27,590.

19-Price: 58,315.

20-Price: 87,220.

21-Price: 112,920.

22-Price: 4,213.

23-Price: 6880.
Pros:
Quality Ceramic: Made from high-quality ceramic, these dinner plates are not only beautiful but also durable, ensuring they'll withstand everyday use.
Gilt Rim Design: The stunning black plates with a golden rim elevate your dining experience, making every meal feel like a special occasion.
Versatile: Whether you're serving a cozy dinner for two or hosting a dinner party, our set offers various size and configuration options to meet your needs.
Dishwasher Safe: Cleaning up has never been easier. These porcelain plates are dishwasher safe, saving you precious time after your meal.
Application: Perfect for home, kitchen, restaurant, or hotel use, these plates are versatile enough to suit any dining environment.
Cons:
Minor Imperfections: As with any handmade ceramic product, you may occasionally notice small black and white dots or minor bumps, but rest assured, they don't detract from the overall beauty.
Product Specifications:
Material: Quality ceramic
Color: Black with golden rim
Available Sets: Various set options to accommodate different dining needs
Size: As shown in the pictures
Packing: Securely packaged in foam board and a cardboard box
Service: Your satisfaction is our priority. If your set arrives damaged, we'll either refund your money or send you a replacement.
Dishwasher Safe: Yes
Bring style and elegance to your table with our Porcelain Dinner Plates Set. These plates aren't just dinnerware; they're a statement piece that enhances your dining experience. Imagine the compliments from your guests as they dine on these exquisite plates.
Sale Options: 1pcs or 1 set
Set E:7.5″deep plate x 6pieces/small plate x 6pieces/10″shallow plate x 6pieces/cutlery set x 6set
Set F:7″shallow plate x 6pieces/8″shallow plate x 6picecs/10″shallow plate x 6pieces/4.5″bowl x 6pieces/cutlery set x 6set
2 people set:spoon x 2pieces/4.5″bowl x 2pieces/8″shallow plate x 2pieces/10″shallow plate x 2pieces
4 people set:spoon x 4pieces/4.5″bowl x 4pieces/8″shallow plate x 4pieces/10″shallow plate x 4pieces/12″oval plate x 2pieces
6 people set:spoon x 6pieces/4.5″bowl x 6pieces/8″shallow plate x 6pieces/10″shallow plate x 6pieces/12″oval plate x 2pieces/8″bowl x 1pieces
8 people set:spoon x 8pieces/4.5″bowl x 8pieces/8″shallow plate x 8pieces/10″shallow plate x 8pieces/12″oval plate x 2pieces/8″bowl x 1pieces


Customer Testimonials:
⭐⭐⭐⭐⭐
I'm in love with these plates! The gilt rim adds a touch of luxury to my dinners. – Sarah
⭐⭐⭐⭐⭐
The various set options are great. I bought the 4 people set, and it's perfect for family gatherings. – Mark
⭐⭐⭐⭐⭐
I was worried about the dishwasher, but they come out looking brand new every time!- Emily
Upgrade your dining experience today with our Porcelain Dinner Plates Set. Elevate your meals and impress your guests with this elegant addition to your table. Choose the set that suits your needs and enjoy dining in style.