Plastic Cereal Dispenser Storage Box-Convenient Storage for Your Kitchen Staples
Plastic Cereal Dispenser Storage Box
Discover the Perfect Solution for Organizing Your Kitchen with the Plastic Cereal Dispenser Storage Box.
Are you tired of rummaging through cluttered cabinets in search of your favorite food items? Look no further! Our Plastic Cereal Dispenser Storage Box is here to revolutionize your kitchen storage experience. Crafted with high-quality materials, this storage box is designed to keep your grains, rice, flour, and other food staples fresh and easily accessible.
Key Features:
The durable and practical design ensures a long service life.
BPA-free plastic construction guarantees a healthy and eco-friendly storage solution.
A transparent body allows you to effortlessly identify the contents, saving you valuable time and effort.
Excellent tightness provides optimal moisture-proof and preservation capabilities.
The convenient pour spout design facilitates easy pouring and ensures mess-free food handling.
This storage box is a versatile addition to any kitchen, allowing you to store various dried foods, snacks, and grains in a single, organized space. Say goodbye to messy, unorganized shelves and cabinets, and hello to a neat and efficient kitchen setup.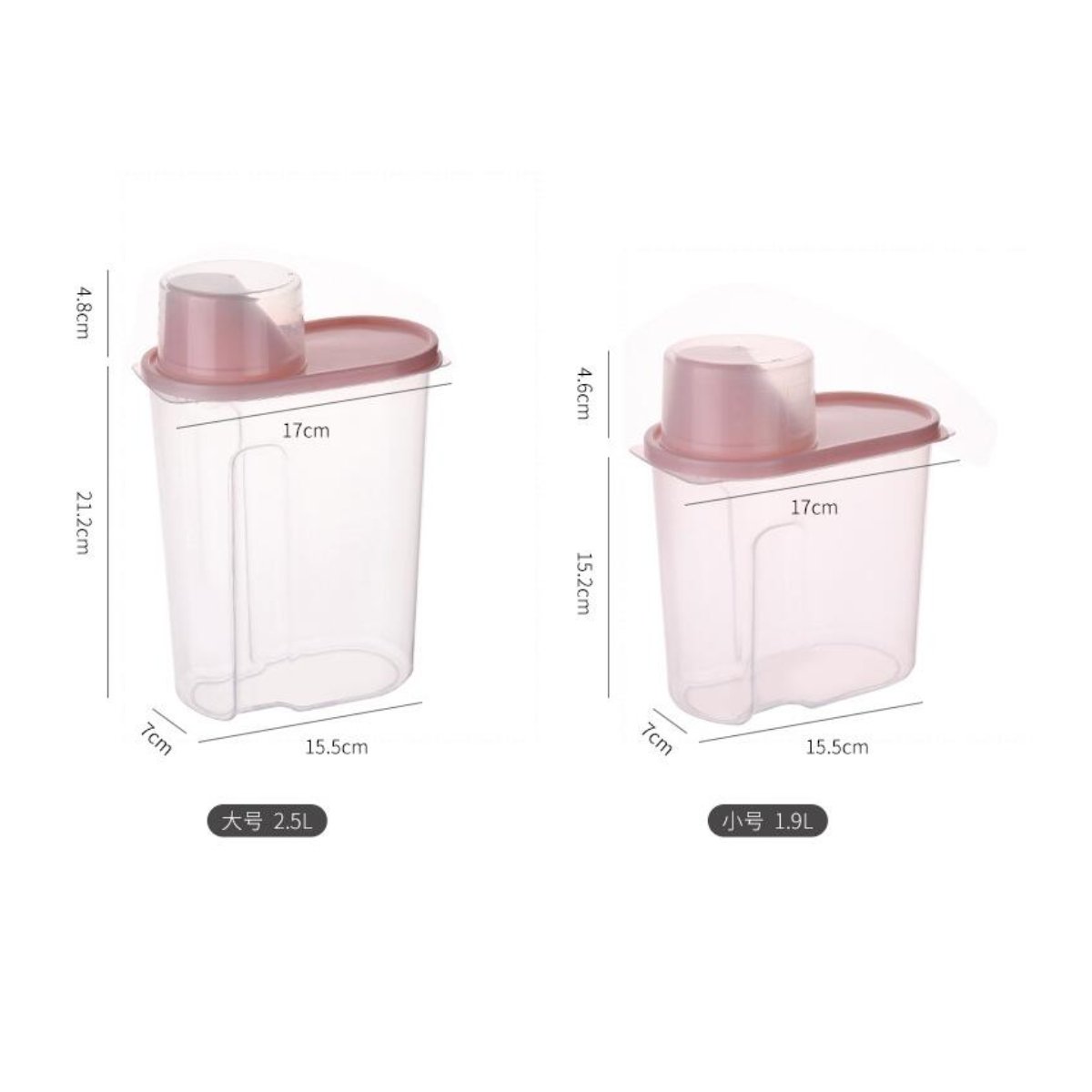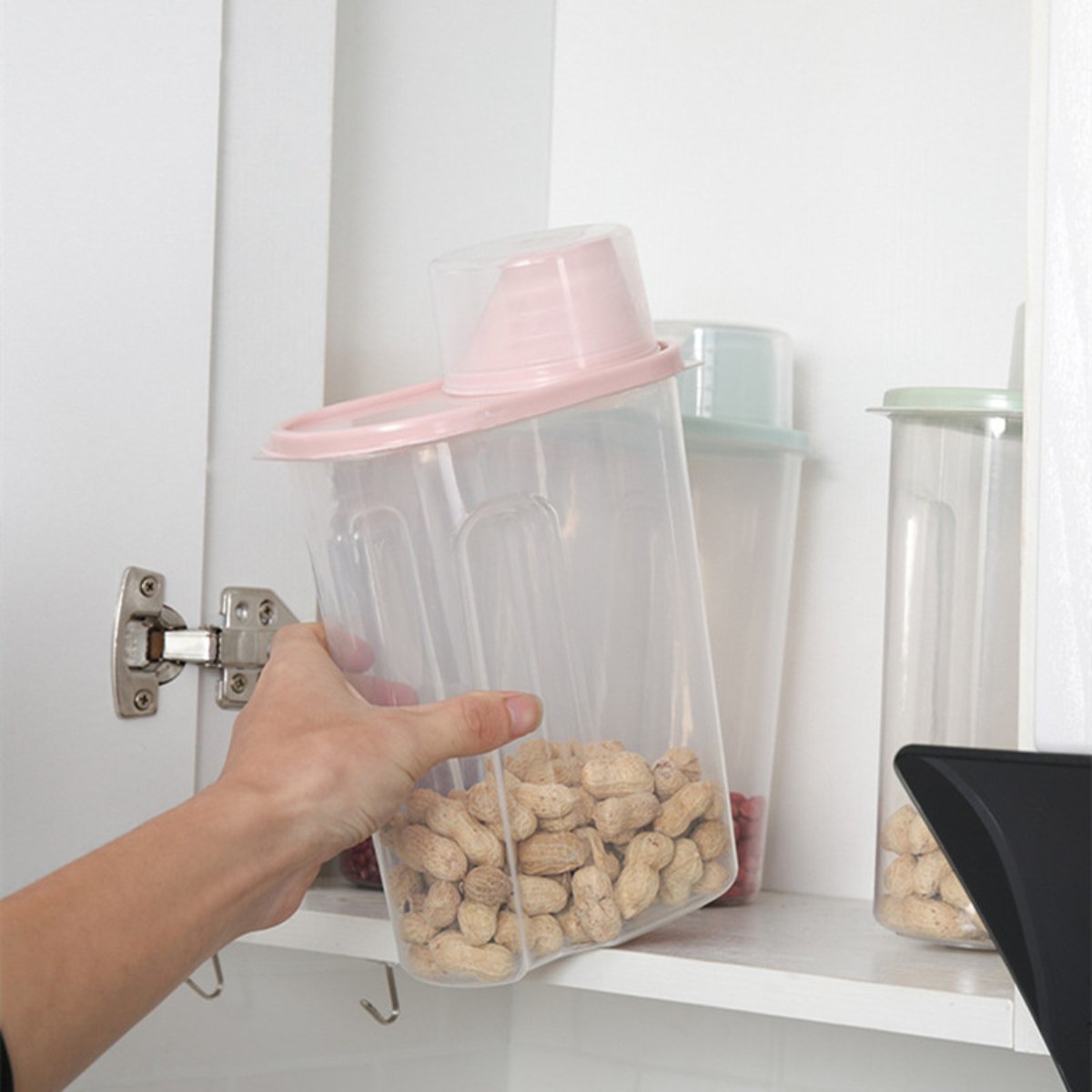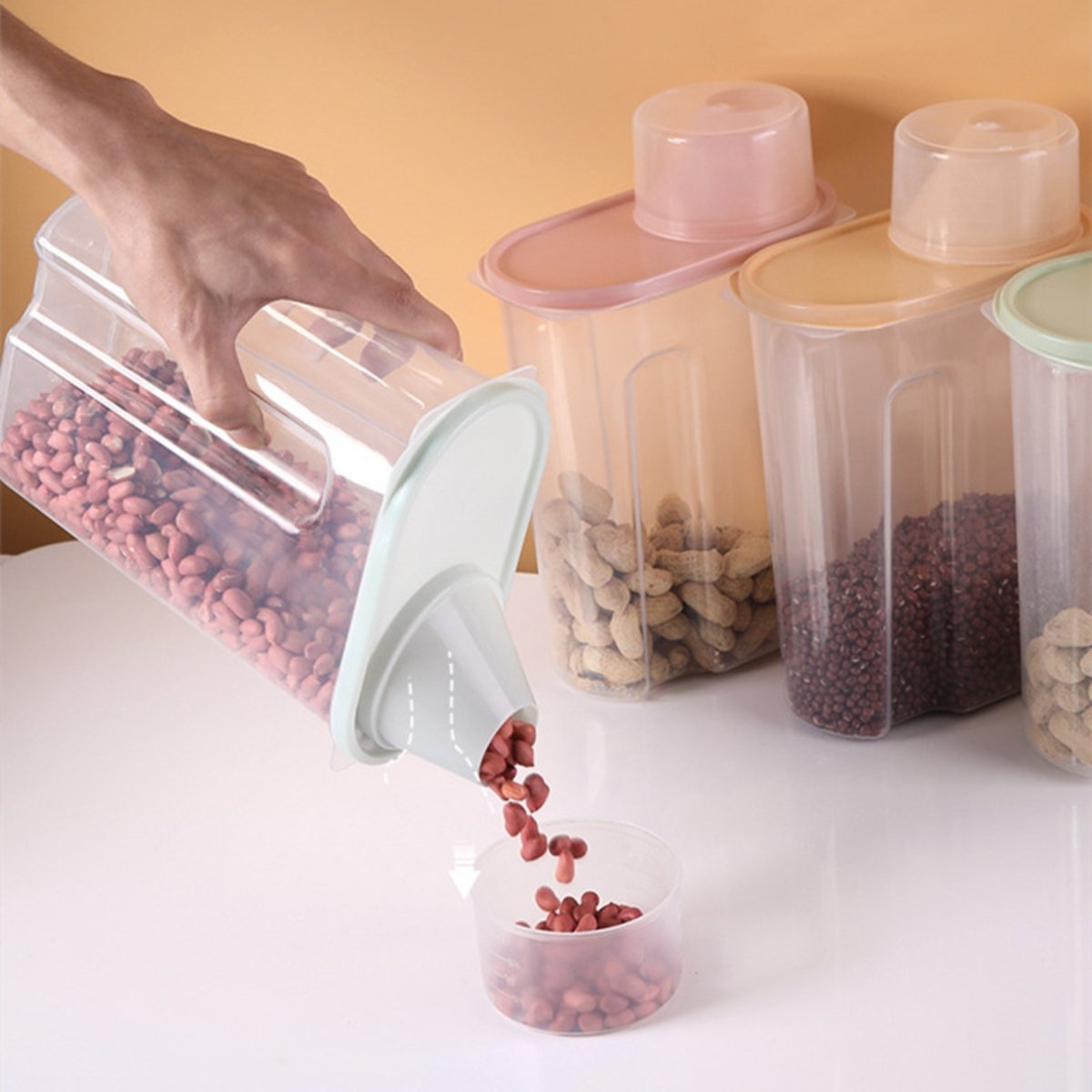 Practical and Eco-Friendly Design
Discover the Benefits of the Enhance Your Kitchen Experience.
Imagine effortlessly pouring out the perfect amount of rice or cereal without any spills or mess. Our Plastic Cereal Dispenser Storage Box is intelligently designed to make your life easier and more convenient. With its user-friendly features and durable construction, this storage box is an essential addition to your kitchen.
Key Features:
Easy-to-use pour spout design ensures precise pouring and prevents wastage.
Ample capacity allows for storage of up to 2.5 liters in the large size and 1.9 liters in the small size, accommodating your daily needs.
BPA-free plastic material guarantees the safety and health of your stored food.
The airtight seal ensures that your food remains fresh and preserves its quality for longer periods.
Versatile storage capabilities make it ideal for a wide range of food items, including flour, grains, snacks, and more.
Simplify your daily cooking routine by having your essential ingredients readily available and neatly organized. Whether you're a cooking enthusiast or a busy parent, this storage box will become your go-to kitchen companion.
Practicality Meets Style
Upgrade Your Kitchen Storage with the Plastic Cereal Dispenser Storage Box and Add a Touch of Elegance to Your Space.
Tired of unattractive storage containers cluttering your kitchen? Our Plastic Cereal Dispenser Storage Box is not only highly functional but also aesthetically pleasing. Its sleek and transparent design adds a touch of elegance to any kitchen decor.
Key Features:
The transparent body showcases the beauty of your stored food, making it a decorative element in your kitchen.
The compact size and stackable design allow for efficient use of space, even in smaller kitchens.
Versatile storage capacity accommodates various food items, from cereals and grains to dried fruits and snacks.
The easy-to-clean surface ensures hassle-free maintenance, keeping your storage box looking brand new.
The durable construction guarantees a long-lasting companion for all your kitchen adventures.
Bring order and sophistication to your kitchen while keeping your food fresh and easily accessible. Upgrade your storage game with the Plastic Cereal Dispenser Storage Box and enjoy the perfect blend of functionality and style.
Keep in Touch
Follow us on social media. Facebook. Instagram. Twitter. Pinterest.
FEEDBACK: