Introducing Our Vacuum-Sealed Food Storage Containers for Meal Prep: Freshness at Your Fingertips
Are you tired of throwing away spoiled food or dealing with messy leaks in your fridge? Say goodbye to these kitchen woes with our Airtight Vacuum Sealed Food Storage Containers for Meal Prep. Designed to revolutionize the way you store food, these containers are a game-changer for meal prep enthusiasts and anyone who loves fresh, hassle-free storage.
Pros and Cons of Our Airtight Vacuum Sealed Food Storage Containers
Pros:
Airtight and Leakproof: Your meals will stay fresh for days or even weeks.
Microwave, Freezer, and Dishwasher Safe: Convenient for heating, freezing, and cleaning.
Stackable Design: Maximize space in your fridge or pantry.
Clear Plastic Construction: Easily identify what's inside.
Includes Hand Pump: Achieve airtight seals effortlessly.
Cons:
No specific brand name.
May not be as visually stylish as some premium containers.
Unparalleled Features for Your Meal Prep Needs
Airtight and Leakproof: Our containers ensure that your culinary creations stay as fresh as the moment you prepared them. No more wasting money on spoiled food.
Microwave, Freezer, and Dishwasher Safe: With the versatility of these containers, you can easily transition from meal prep to mealtime. They're designed to handle it all, from cooking to storing to cleaning.
Stackable Design: Your fridge and pantry will thank you for the extra space. Stack these containers neatly and effortlessly.
Clear Plastic Construction: Never play the guessing game with your food again. The transparent design lets you see exactly what's inside, saving you time and reducing food waste.
Includes Hand Pump: Achieve an airtight seal with a simple touch of a button. No more struggling with lids or worrying about leaks.
How Our Vacuum Sealed Food Storage Containers Enhance Your Life
Imagine the convenience of having your meals ready to go, whether you're preparing for the week ahead or saving delicious leftovers. No more rushing to finish your food before it spoils or searching for mismatched lids. Our containers are your answer to an organized, stress-free kitchen.
Your meal prep, leftovers, snacks, and even travel snacks have met their match with these containers. They're the secret weapon that keeps your food fresh, your kitchen tidy, and your life simplified.
Ready to upgrade your food storage game? Click the link below and order your airtight vacuum sealed food storage containers today! Your future self will thank you.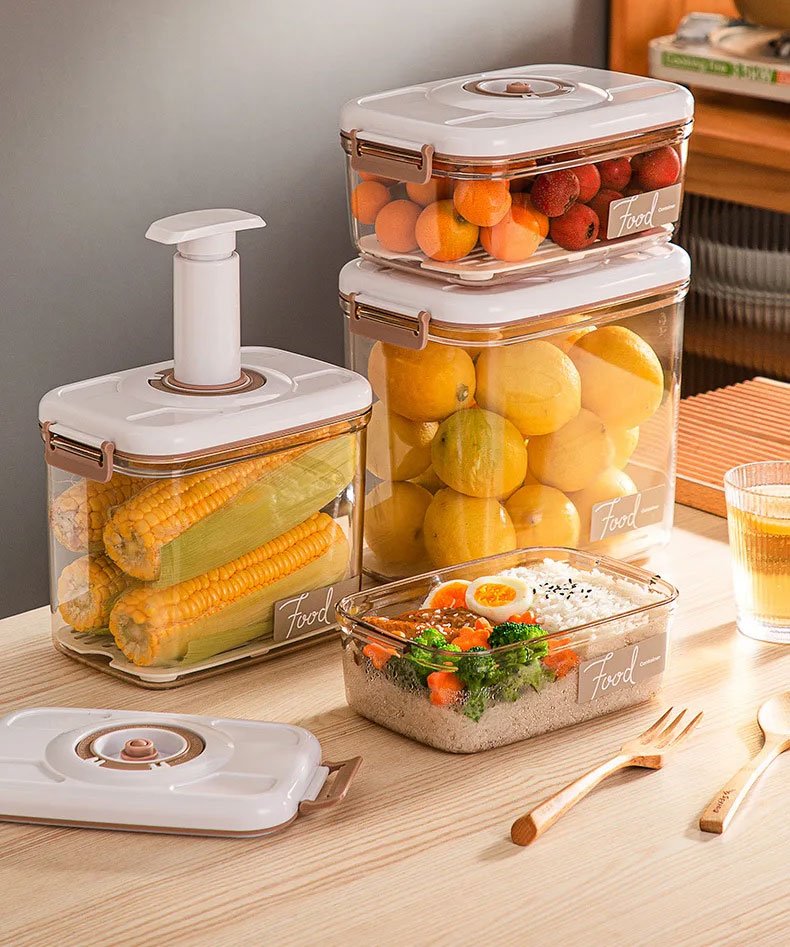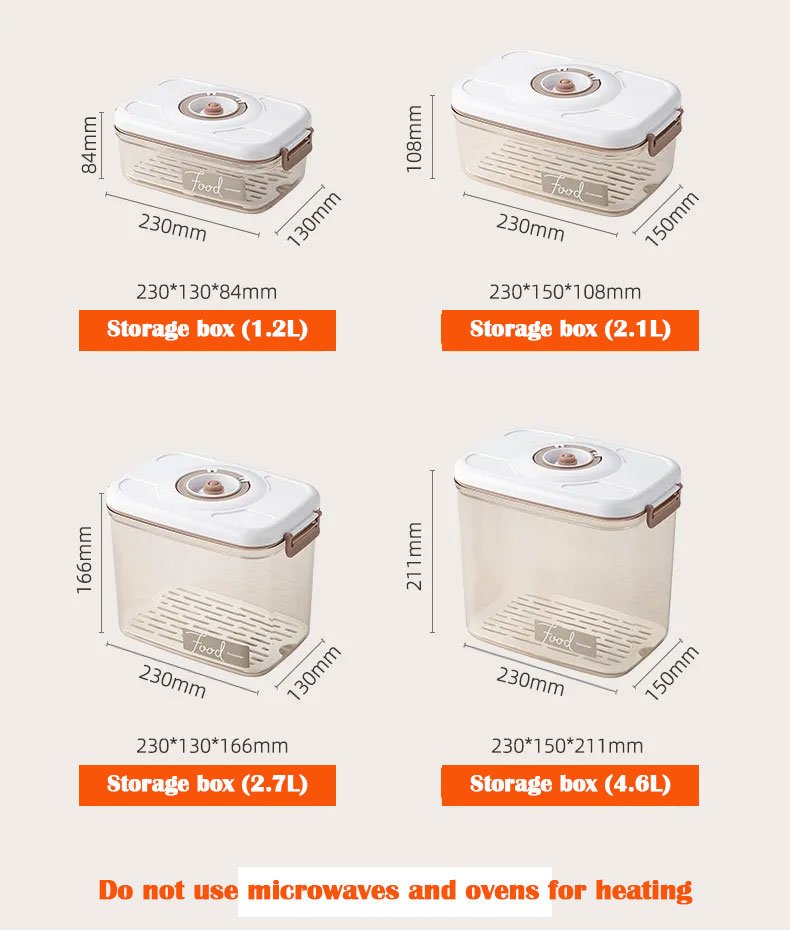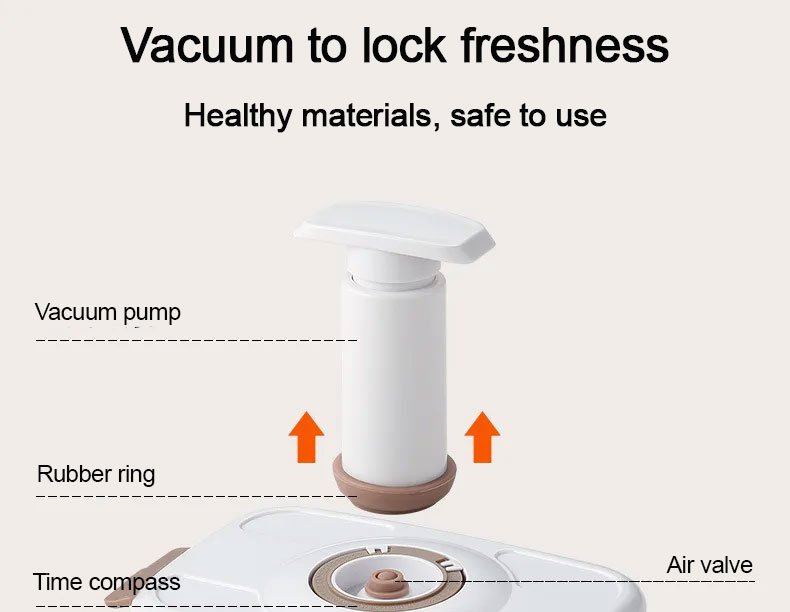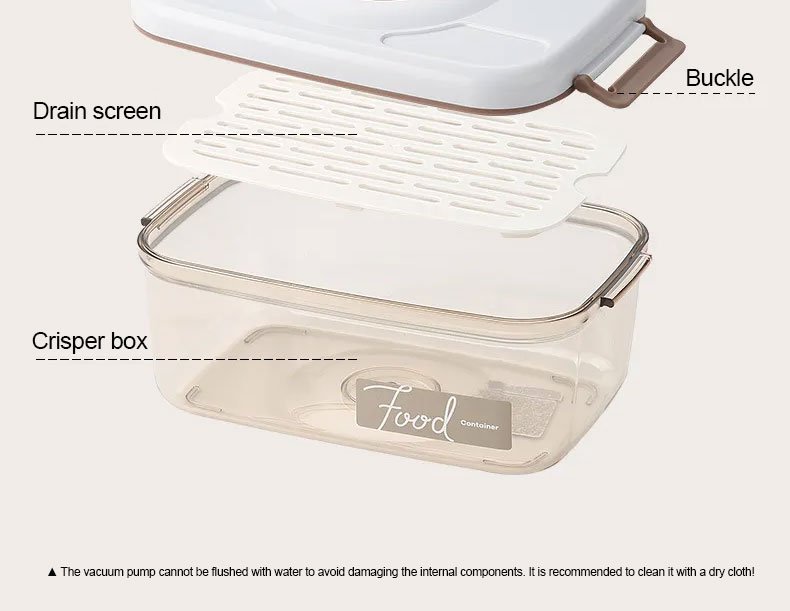 Keep in Touch
Follow us on social media. Facebook. Instagram. Pinterest.

Customer Testimonials:
Sarah K.-⭐⭐⭐⭐⭐
"These containers have transformed my meal prep game! I no longer have to worry about my carefully prepared meals going to waste. The airtight seal keeps everything fresh, and they are so easy to clean. Highly recommended!"
Mark L.-⭐⭐⭐⭐⭐
"As someone who loves to take food on the go, these containers are a lifesaver. They've become my trusted travel companions. No more soggy sandwiches or spills in my bag. I'm impressed by the quality and ease of use."
Emily P.-⭐⭐⭐⭐⭐
"I've tried various food storage containers, but these are the best by far. The clear design is a game-changer; I can quickly identify what's inside, which saves me time and prevents food from getting lost in the back of the fridge. Plus, they're stackable, so I can keep my fridge neat and tidy."
David M.-⭐⭐⭐⭐⭐
"Being a busy professional, I rely on meal prep for a healthy diet. These containers have made the process so much smoother. I can prep meals in advance and keep them fresh for days. The hand pump is a genius addition, making sure every meal is airtight. A must-have for anyone who meal preps regularly!"
Jessica H.-⭐⭐⭐⭐⭐
"I was skeptical at first because of the lack of a brand name, but these containers have exceeded my expectations. They are durable and reliable. No more food waste, no more messes in the freezer or fridge. The clear plastic is a fantastic feature, and the hand pump is incredibly easy to use."
Our customers love these Airtight Vacuum Sealed Food Storage Containers, and we believe you will too. Don't just take our word for it; see the difference they make in your meal prep and food storage routine.