Unleash the Flavor and Tenderness of Your Meat with Our Stainless Steel Meat Tenderizer!
Food-Grade and Rust-Free – A Durable Kitchen Companion
---
Experience the ultimate durability and safety with our Food-Grade Meat Tenderizer. Crafted with high-quality stainless steel and plastic, this kitchen tool is designed to withstand the test of time while ensuring your food remains free from contaminants. Say goodbye to corroded and rusty tenderizers that compromise the quality of your meals.
With its never-rust stainless steel construction, our Meat Tenderizer provides peace of mind and long-lasting performance. Prepare your favorite cuts of meat without worrying about the integrity of your tenderizer. Invest in a kitchen tool that prioritizes your health and culinary excellence.
Unleash the True Potential of Your Marinades – Absorb Flavor Faster
---
Prepare to revolutionize your cooking experience with our Stainless Steel Meat Tenderizer. Equipped with sharp stainless steel prongs, this tool effortlessly breaks down meat fibers and connective tissues, allowing marinades to penetrate deeply. Experience flavor absorption like never before, as your marinades work their magic faster and more effectively.
Don't settle for average cooking times. Our Meat Tenderizer hastens the cooking process by maximizing the absorption of flavors and tenderizing the meat. Unlock the full potential of your favorite recipes and enjoy tender, succulent results that will leave your taste buds craving more.
Preserve Meat Shape and Fibers – Say Goodbye to Messy Cleanup
---
Tired of losing the shape and fibers of your meat while tenderizing? Our Meat Tenderizer tool is here to revolutionize your culinary endeavors. Unlike traditional meat hammers and mallets that often destroy the natural shape and fibers of meat, our tenderizer preserves the integrity of your cuts. Say goodbye to messy cleanup caused by blood and meat bits scattered around your kitchen.
Designed with your convenience in mind, our Meat Tenderizer features very sharp blades that are ideal for fibrous meats like venison, pork, beef, veal, fowl, poultry, and fish. Its compact and lightweight design allows for easy handling, preventing strain on your wrist muscles. Enjoy the perfect balance between functionality and comfort as you transform tough cuts of meat into culinary masterpieces.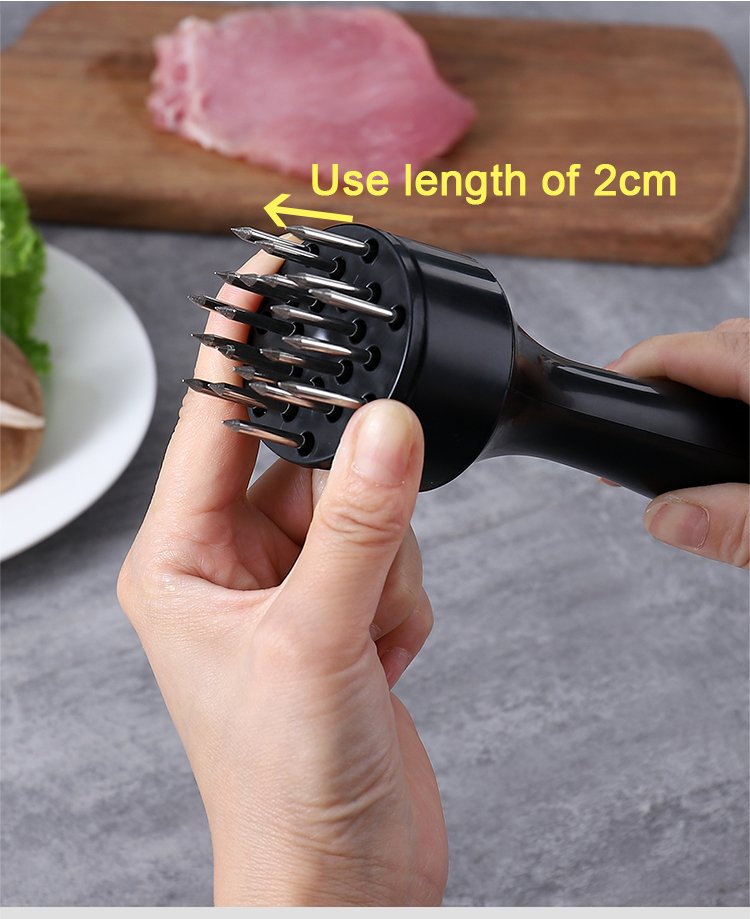 Product Highlights:
Made of high-quality stainless steel and plastic
Food-grade material for safety and durability
Stainless steel prongs for faster marinade absorption and reduced cooking time
Preserves meat shape and fibers, eliminating messy cleanup
Suitable for various types of meat, including venison, pork, beef, veal, fowl, poultry, and fish
Easy to clean with the included cleaning brush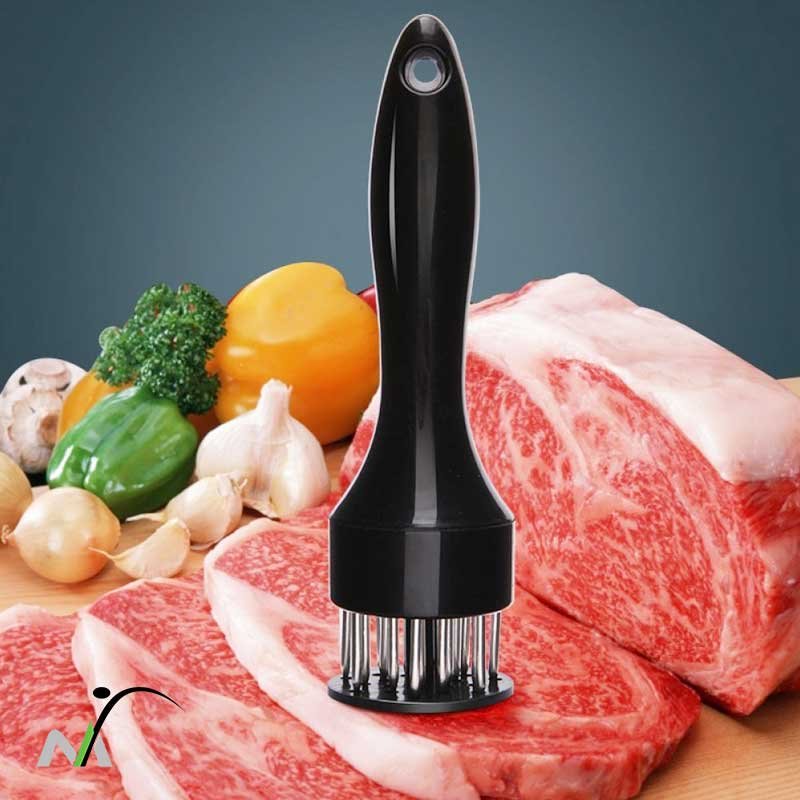 Keep in Touch
Follow our social media. Facebook. Instagram. Twitter. Pinterest.