Maximize Drawer Space with the Innovative Silverware Compact cutlery Organizer
Compact cutlery organizer
Are you tired of rummaging through a cluttered kitchen drawer, struggling to find the right utensils when you need them? Say goodbye to the chaos and welcome the revolutionary Silverware Organizer Storage Tray into your life! With its unique design and smart features, this compact cutlery organizer is here to transform your kitchen drawer experience.
This sleek and practical organizer is specifically crafted to create more space in your drawer. No more wasted empty gaps or jumbled utensils! The stacked compartments are strategically designed to accommodate different types of cutlery, ensuring easy access and efficient storage. From spoons and forks to knives and serving utensils, each piece finds its perfect spot, neatly organized and ready to use.
Create More Space and Efficiency in Your Kitchen Drawer
Gone are the days of guesswork and fumbling around for the right tool. Our Organizer comes with cutlery icons, making identification a breeze. No more mixing up your teaspoons with your tablespoons! You'll always grab the right utensil effortlessly, saving you time and frustration.
But that's not all – this organizer is not just about maximizing space and organization. It's also about style and convenience. With its sleek and compact design, it fits up to 24 pieces of cutlery, making it perfect for small to medium-sized kitchen drawers. The five angled compartments allow you to store a full set of cutlery in less than half the space of a conventional tray. It's a game-changer for those seeking efficiency without compromising style.
Worried about maintenance? Don't be! This cutlery organizer is designed for easy cleaning. Simply wash and dry it by hand, and it'll be ready for its next task. And to top it all off, it's made from BPA-free materials, ensuring a safe and healthy storage solution for your kitchen.
Upgrade your kitchen drawer with the Compact Cutlery Organizer Storage Tray today and experience the joy of clutter-free and efficient cooking space. Say hello to a more organized and enjoyable culinary journey!
Compact Design, Maximum Functionality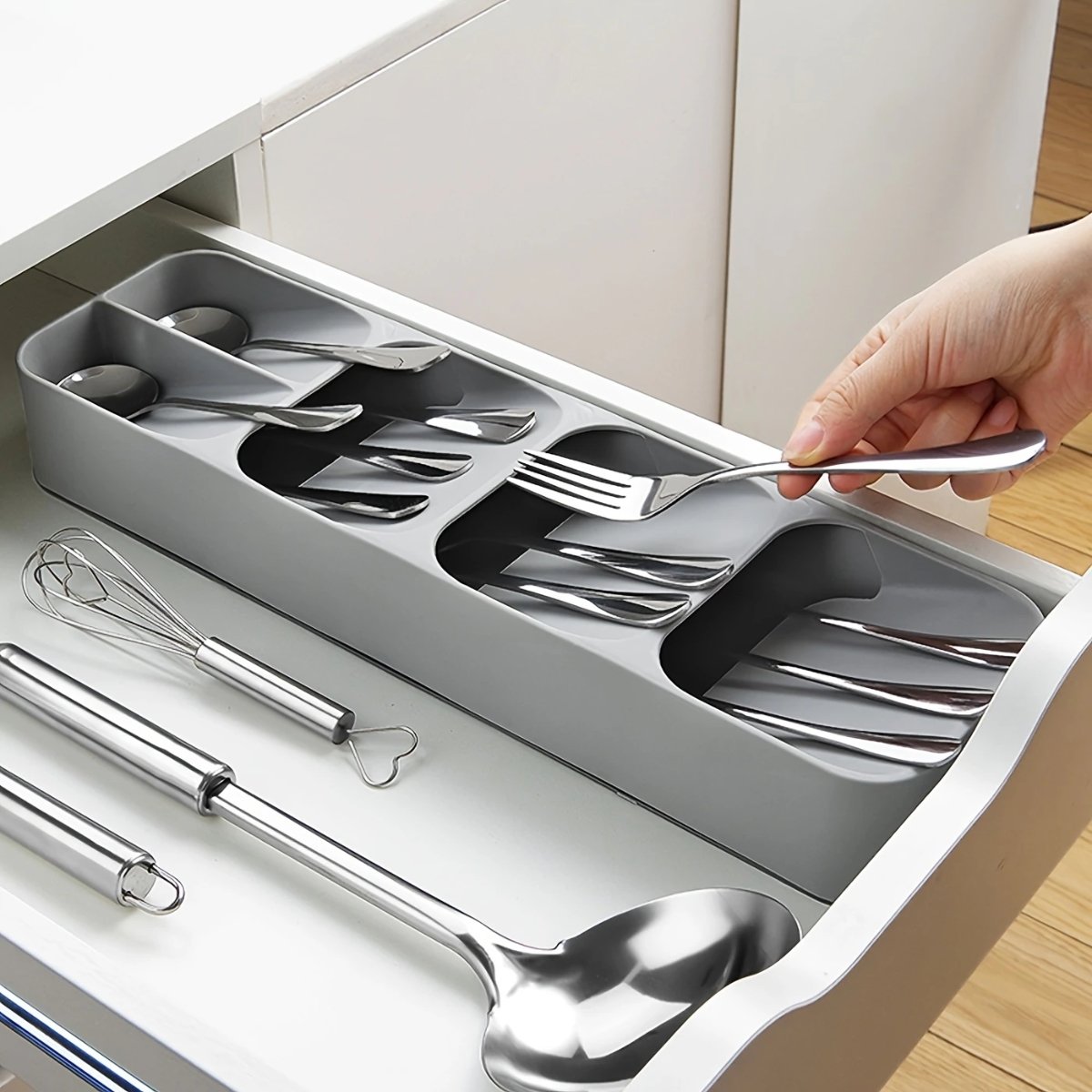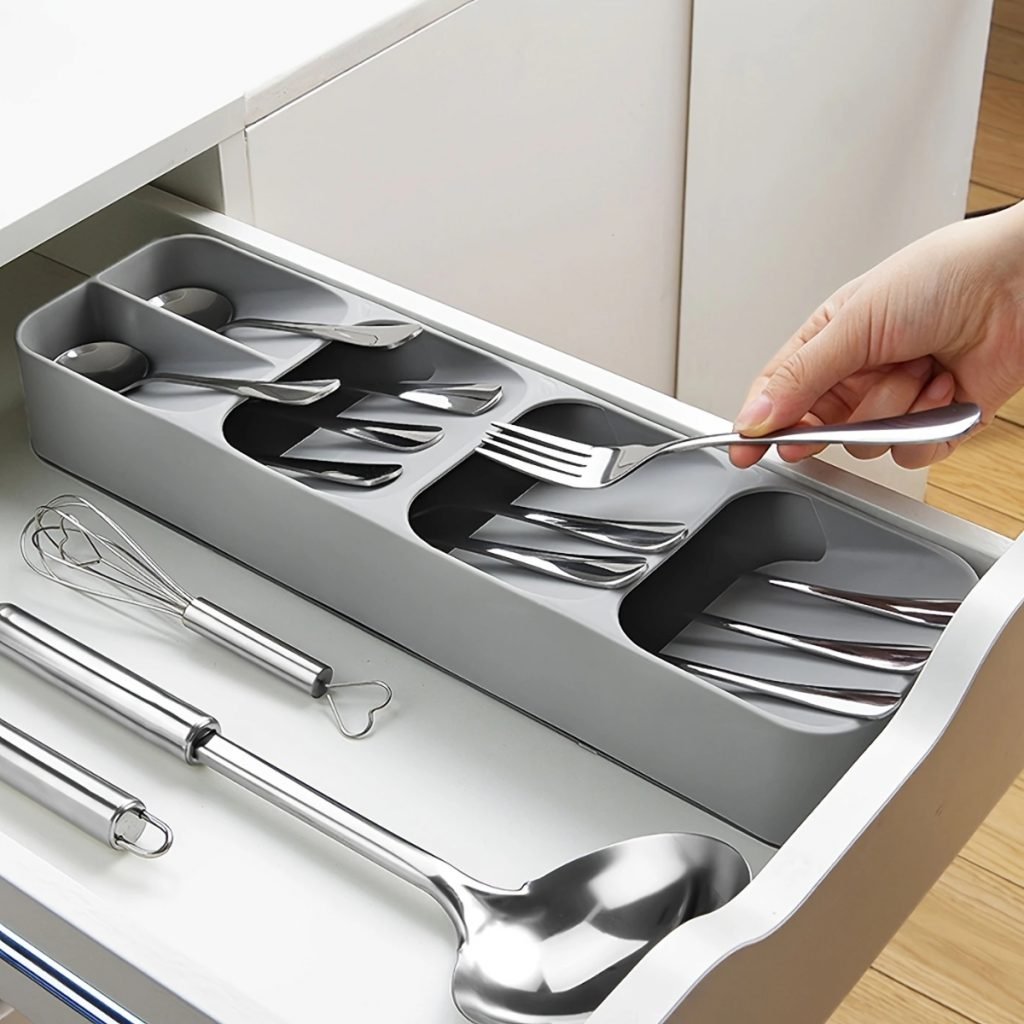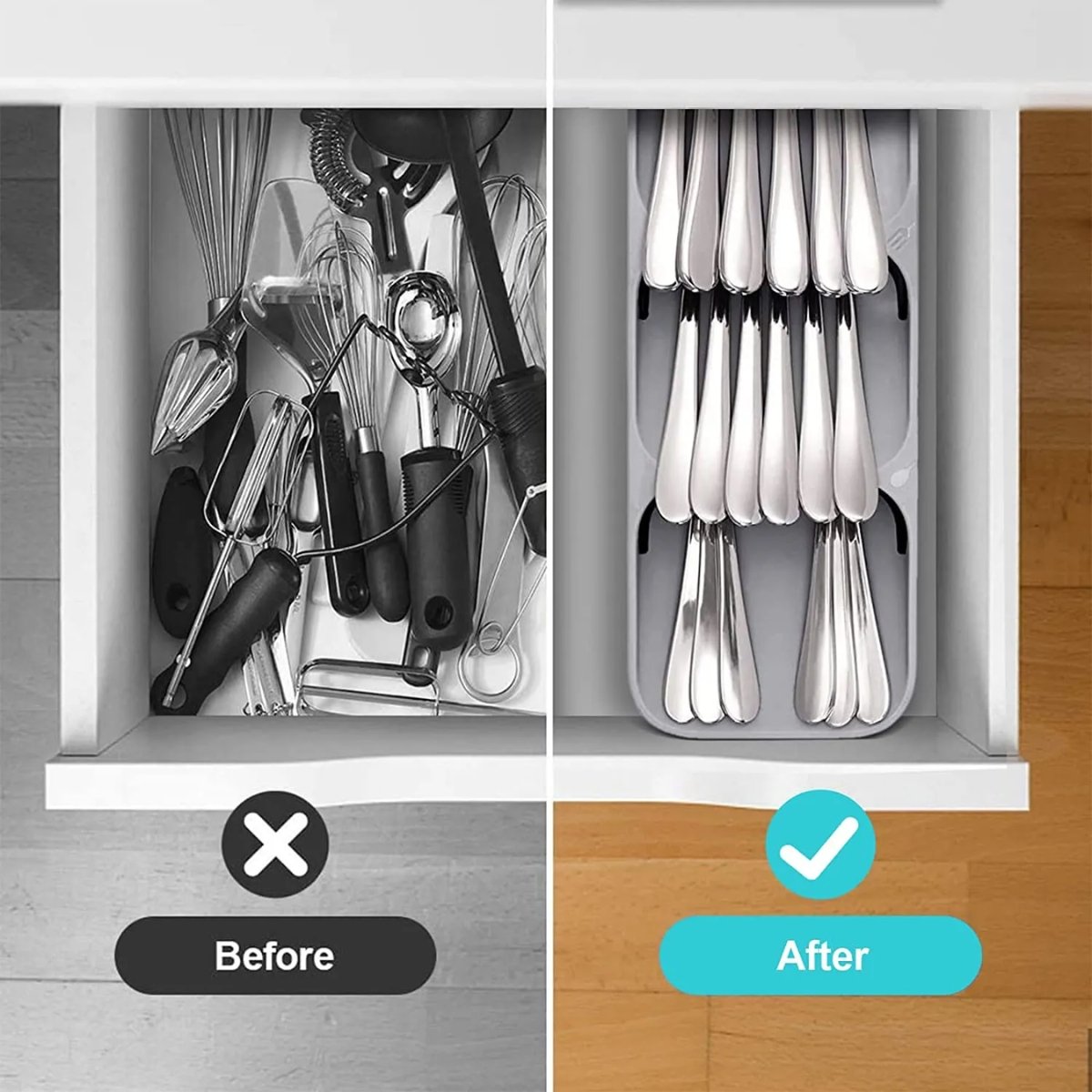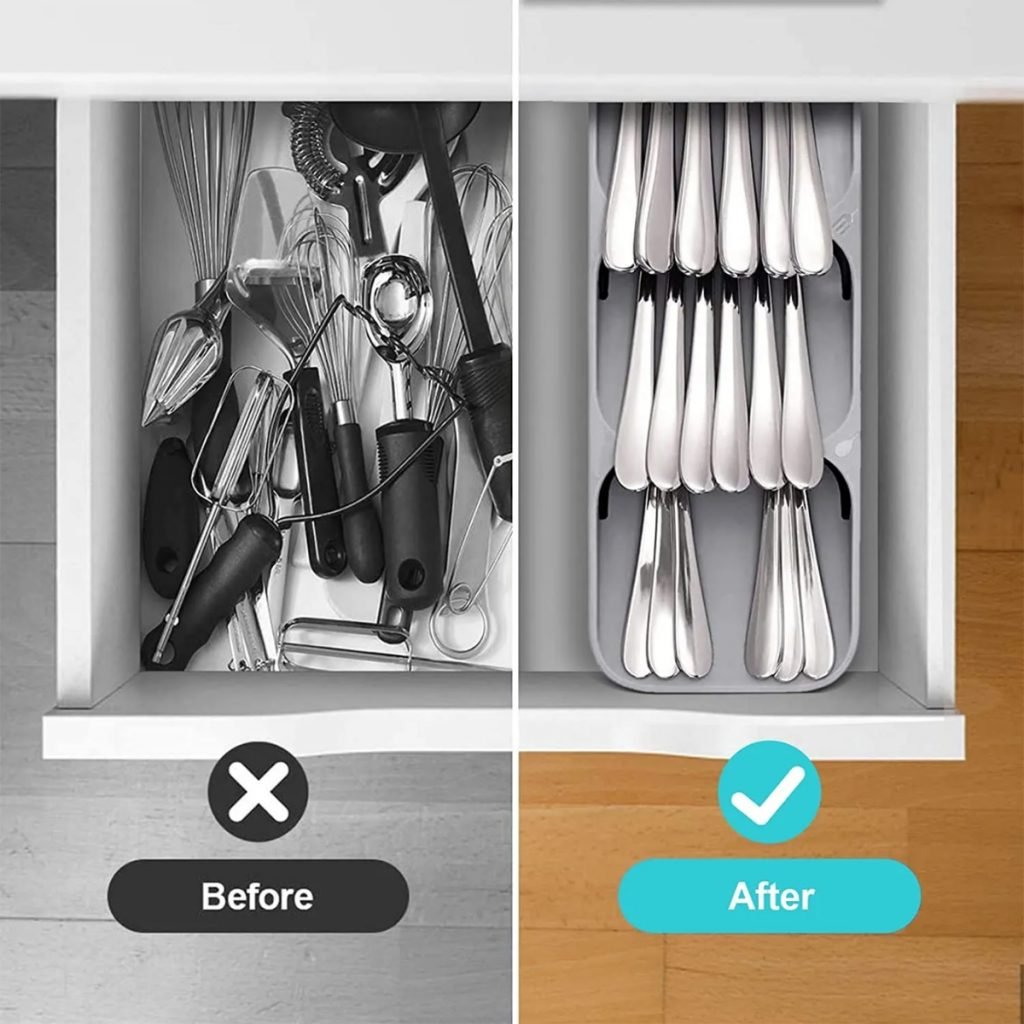 Discover the Perfect Compact cutlery organizer Blend of Space-saving and Practicality
Introducing the Silverware Organizer Storage Tray – a compact powerhouse of functionality that will revolutionize the way you organize your cutlery! Designed with your convenience in mind, this unique organizer offers a myriad of benefits that will make your kitchen life a whole lot easier.
One of the standout features of this cutlery organizer is its compact design. With dimensions of 15.6 x 4.33 x 2.25 inches, it's perfectly suited for drawers with a minimum height of 3¼ inches. No more wasted space or overcrowded drawers! It's time to maximize every inch of your kitchen storage.
But don't let its size fool you – this organizer packs a punch when it comes to functionality. The stacked compartments provide dedicated space for different types of cutlery, ensuring easy sorting and quick access. Whether you're grabbing a spoon for your morning cereal or a fork for your delicious pasta, you'll find exactly what you need without any hassle.
The five angled compartments are a stroke of genius. By storing your cutlery at an angle, this organizer allows you to fit an entire set of cutlery in less than half the space of a conventional tray. Imagine the possibilities – more room for other kitchen essentials, less clutter, and a more organized drawer that sparks joy every time you open it.
We understand that practicality is just as important as functionality. That's why this Silverware Organizer is designed for your convenience. Its simple yet sleek design adds a touch of elegance to your kitchen, while the BPA-free materials ensure your cutlery stays safe and free from harmful chemicals.
Upgrade your kitchen organization game with the Silverware Organizer Storage Tray and experience the perfect blend of space-saving design and maximum functionality. Prepare to be amazed by the transformation it brings to your cooking space!
Efficiency Meets Elegance in Your Kitchen Drawer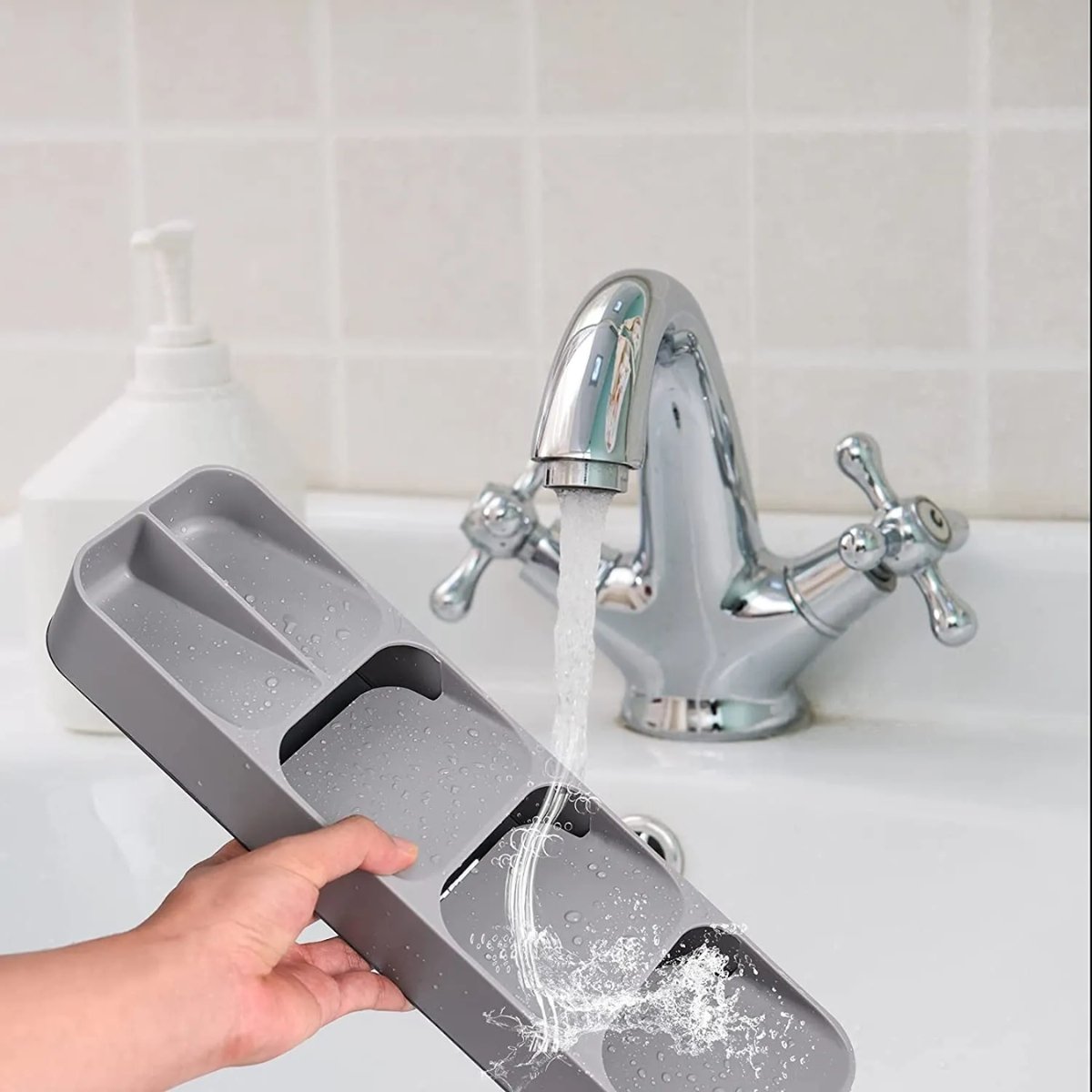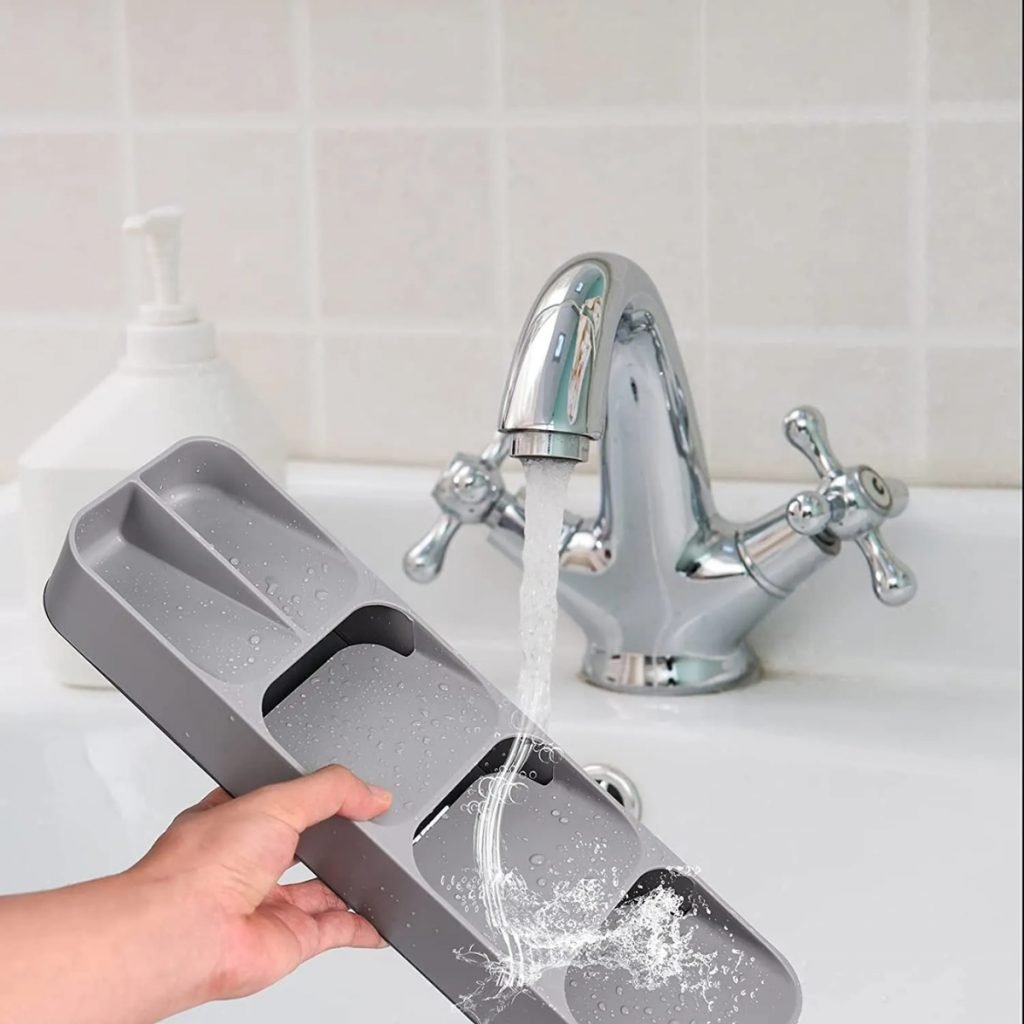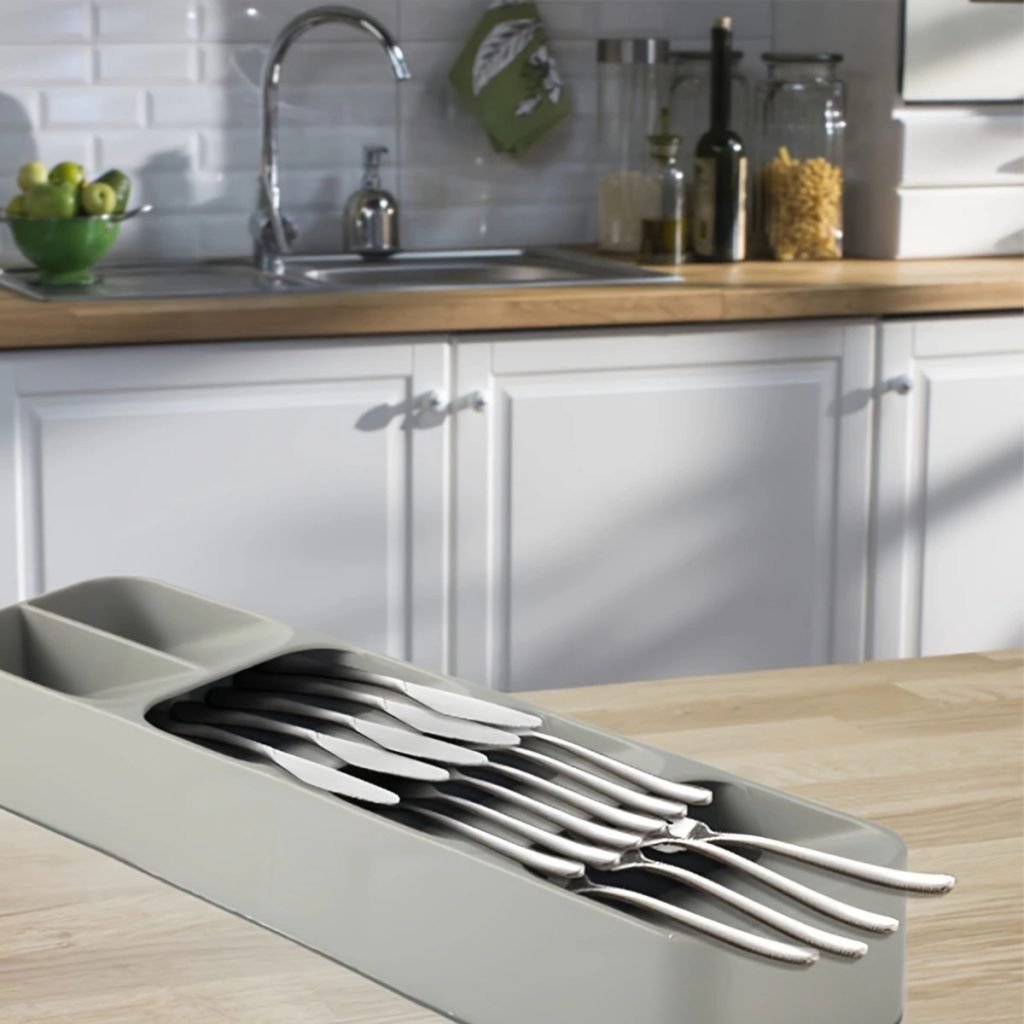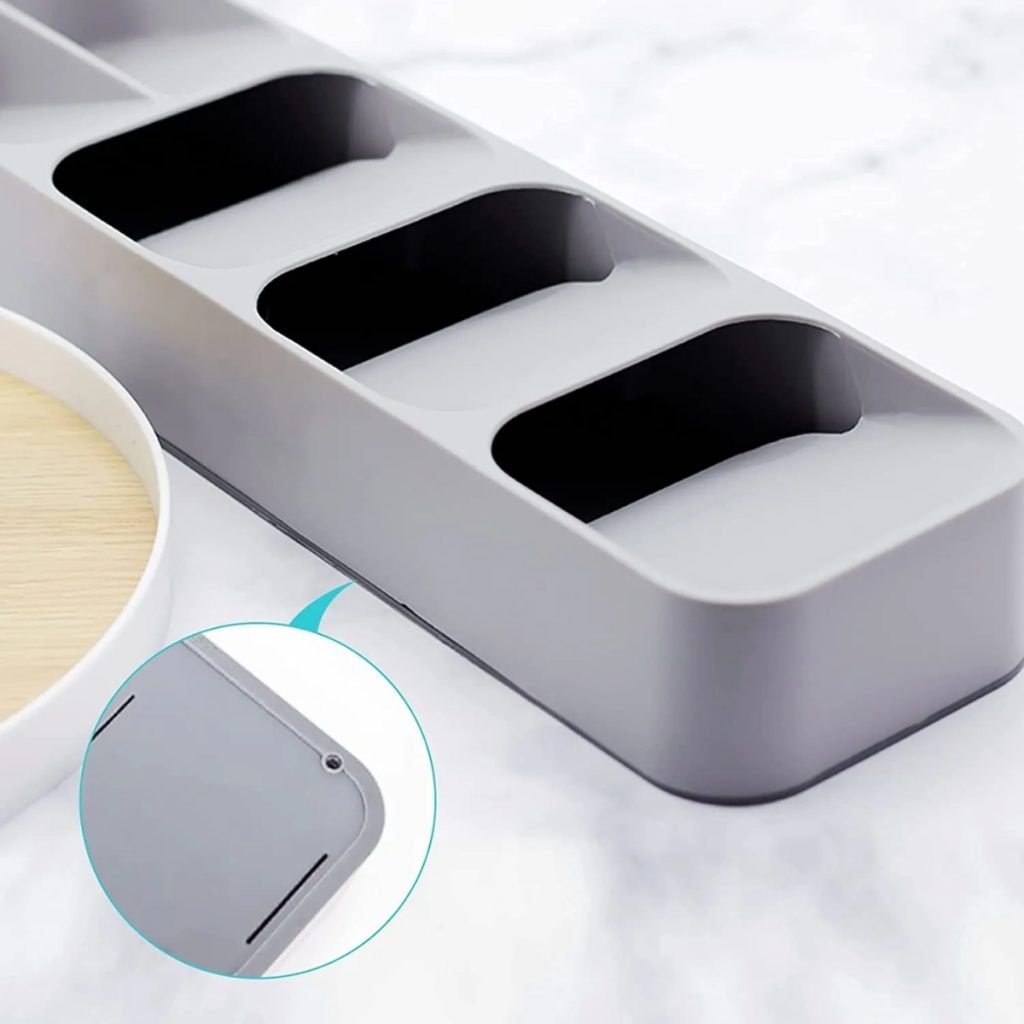 Elevate Your Kitchen Organization with Compact cutlery organizer
Searching for an efficient and stylish solution to your kitchen drawer clutter?  The Silverware Organizer Storage Tray is here to elevate your kitchen organization game and add a touch of elegance to your culinary space.
This organizer is all about efficiency. Its unique design and thoughtful features make it a must-have for any home cook. Utilizing stacked compartments, it optimizes your drawer space, creating room for more than just your cutlery. Imagine having extra space for your cooking utensils, gadgets, or even your favorite recipes!
Not only does this organizer maximize space, but it also streamlines your cooking process. The cutlery icons on each compartment ensure that you grab the right tool with ease. No more digging through a messy drawer, desperately searching for the right spoon or fork. Every utensil has its designated place, making meal preparation a breeze.
With its sleek and modern design, this organizer adds a touch of elegance to your kitchen decor. It's compact size and clean lines make it a seamless addition to any drawer, while its durability ensures it will be a reliable companion for years to come.
Upgrade your kitchen organization and bring efficiency and elegance together with the Silverware Organizer Storage Tray. Experience the joy of a clutter-free and aesthetically pleasing cooking space. Get yours today and transform your kitchen into a haven of organization and style!
Keep in Touch
Follow us on social media. Facebook. Instagram. Twitter. Pinterest.
FEEDBACK: