Maximize Space and Style with our Multifunctional Clothes Hanger Coat & Shoe Rack
Discover the perfect solution for a clutter-free and stylish entryway! Our Multifunctional Clothes Hanger Coat & Shoe Rack is designed to revolutionize how you organize your hallway while adding a touch of elegance to your home decor.
Diversified Storage for Clutter-Free Living:

 Say goodbye to messy entryways with our versatile Clothes Hanger Coat & Shoe Rack. With dedicated space for shoes, hats, and clothes, it keeps your essentials organized and easily accessible. The clever integration of multiple functions in one rack saves valuable space and allows you to create a welcoming and tidy entrance to your home.

Premium Quality for Long-Lasting Use:

 Crafted with preferred carbon steel pipes and coated with an electrostatic paint layer, this rack boasts exceptional durability and rust resistance. The four rough, thick steel pipes (13mm) ensure robust stability, making it easily handle heavy loads. Its inner anti-rust layer and phosphorus-free sealing layer guarantee a long-lasting, pristine appearance.

Easy Installation and User-Friendly Design:

 No need to worry about complex assembly! Our Clothes Hanger Coat & Shoe Rack features an easy installation process that requires no special tools. Its humanized design enhances the user experience, making it hassle-free to use. Transform your entryway effortlessly with this functional and visually appealing rack.
Experience Versatility and Practicality with our Large Capacity Storage Rack
Embrace the power of a spacious and multipurpose storage solution with our Large Capacity Storage Rack. Designed to cater to your diverse storage needs, it brings convenience and efficiency to your home organization.
Optimize Your Space with Large Capacity:

 Tired of cramped closets and limited storage? Our Large Capacity Storage Rack offers ample space to accommodate all your belongings, from shoes to hats, bags, and even clothes. Its thoughtfully designed structure maximizes storage possibilities, ensuring a clutter-free and organized living space.

Continuous Upgrades for Enhanced User Experience:

 We believe in continuous improvement to deliver the best to our customers. The adhesive hook design adds convenience, offering additional hanging options for coats and bags. The bare tube layer and the three-layer design provide strength and stability, making it a reliable storage solution for the long haul.

Versatility and Style in One Rack:

 More than just a shoe rack, this Large Capacity Storage Rack is your go-to solution for various storage needs. Its multifunctional design allows you to adapt it to your changing requirements. Please choose from the color options of black and white and effortlessly blend them into your home decor while elevating its style.
Upgrade Your Home Organization with our Humanized and Practical Shoes and Hat Rack
Step into the realm of efficient and human-centered home organization with our Multifunctional Shoes and Hat Rack. Experience the joy of easy access, a neat display, and a clutter-free entryway.
A Perfect Fusion of Style and Function:

 Looking for a rack that complements your home's aesthetics while serving its purpose? Our Multifunctional Shoes and Hat Rack are designed to offer both. At the same time, its practical features keep your shoes, hats, and clothes perfectly organized.

Personalized Height and Size Options:

 We understand that every home and storage needs are unique. Choose from two height options – four layers (152.5cm) and five (169.5cm) to match your specific requirements. The 16cm, 60/80cm, and 25.5cm dimensions allow you to personalize your storage space effectively.

User-Centric and Easy to Use:

 We believe in making your life easier. Our Multifunctional Shoes and Hat Rack feature an easy installation process, and its thoughtful design ensures seamless usage. Hang clothes, store shoes, and neatly arrange hats easily, all while saving precious space in your hallway.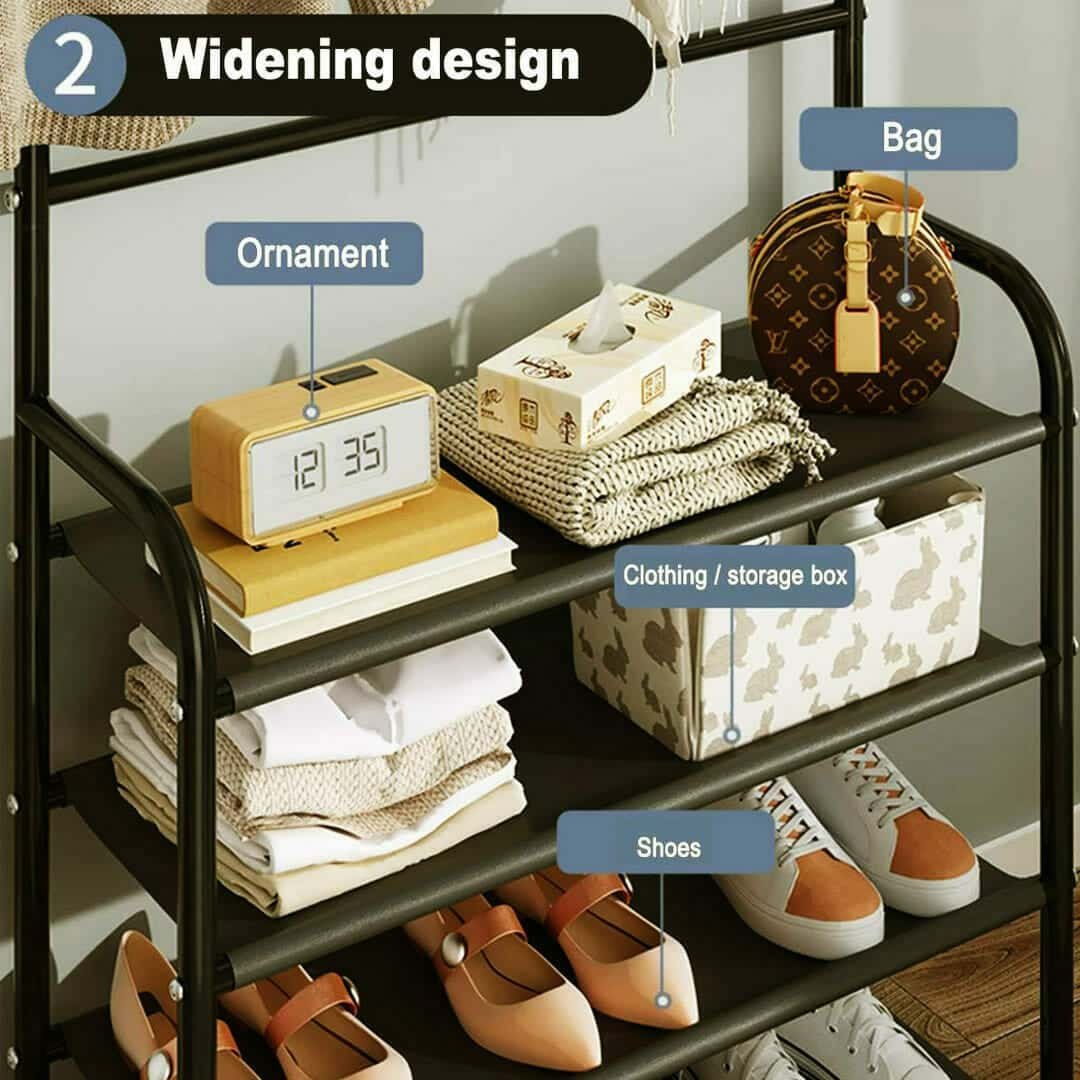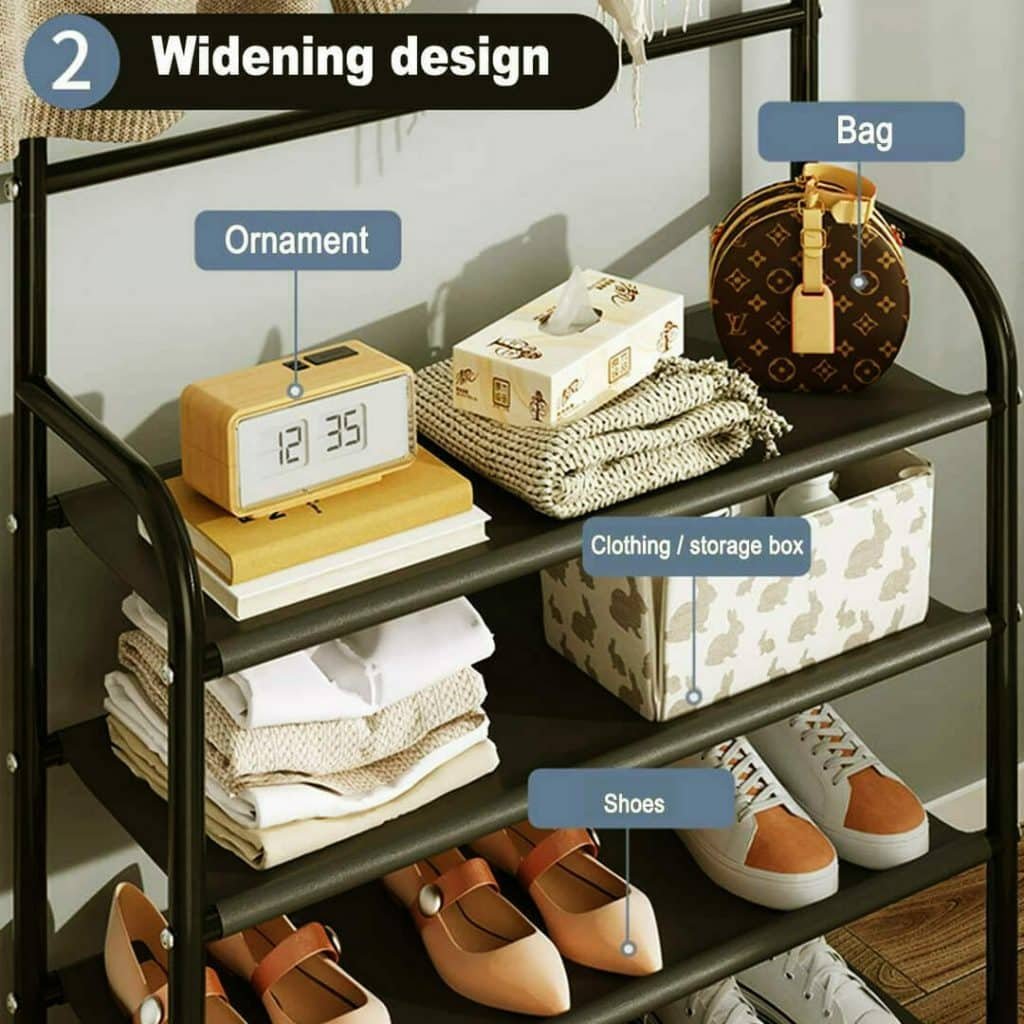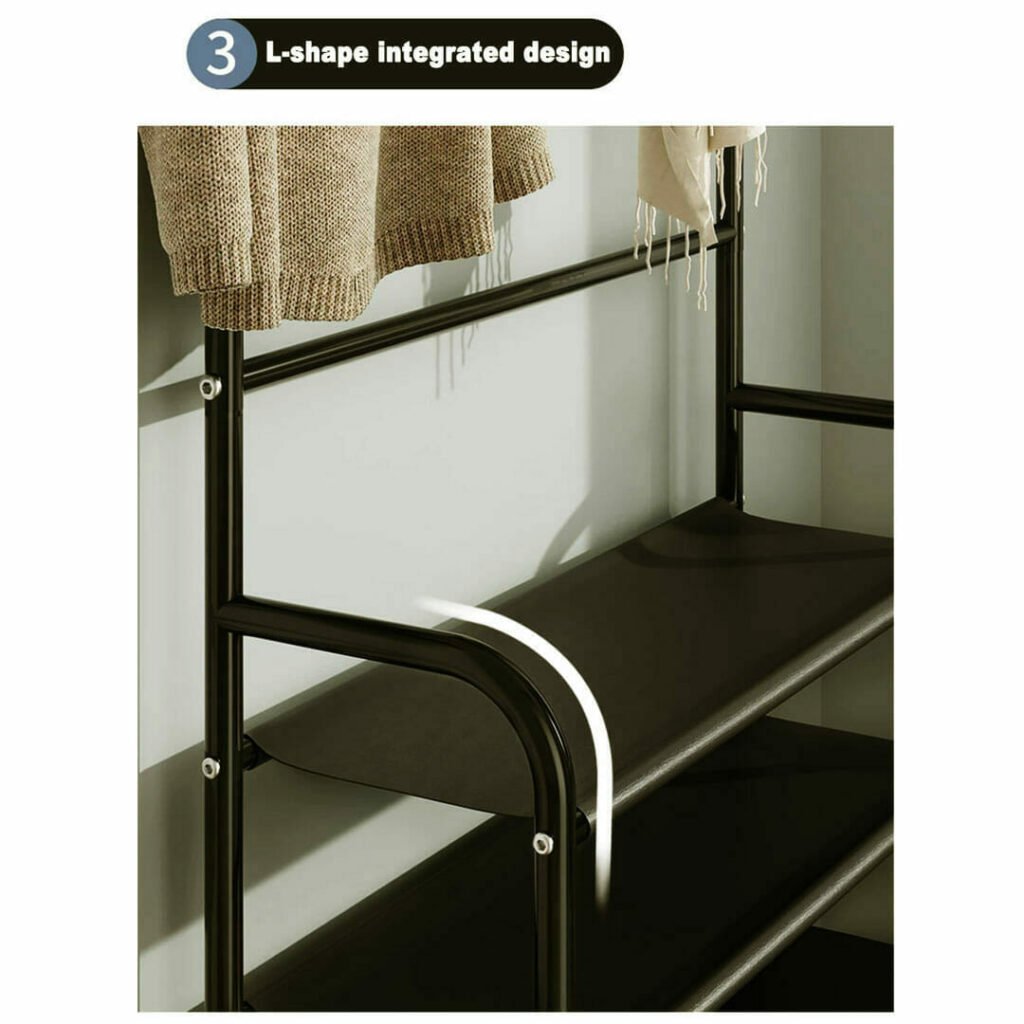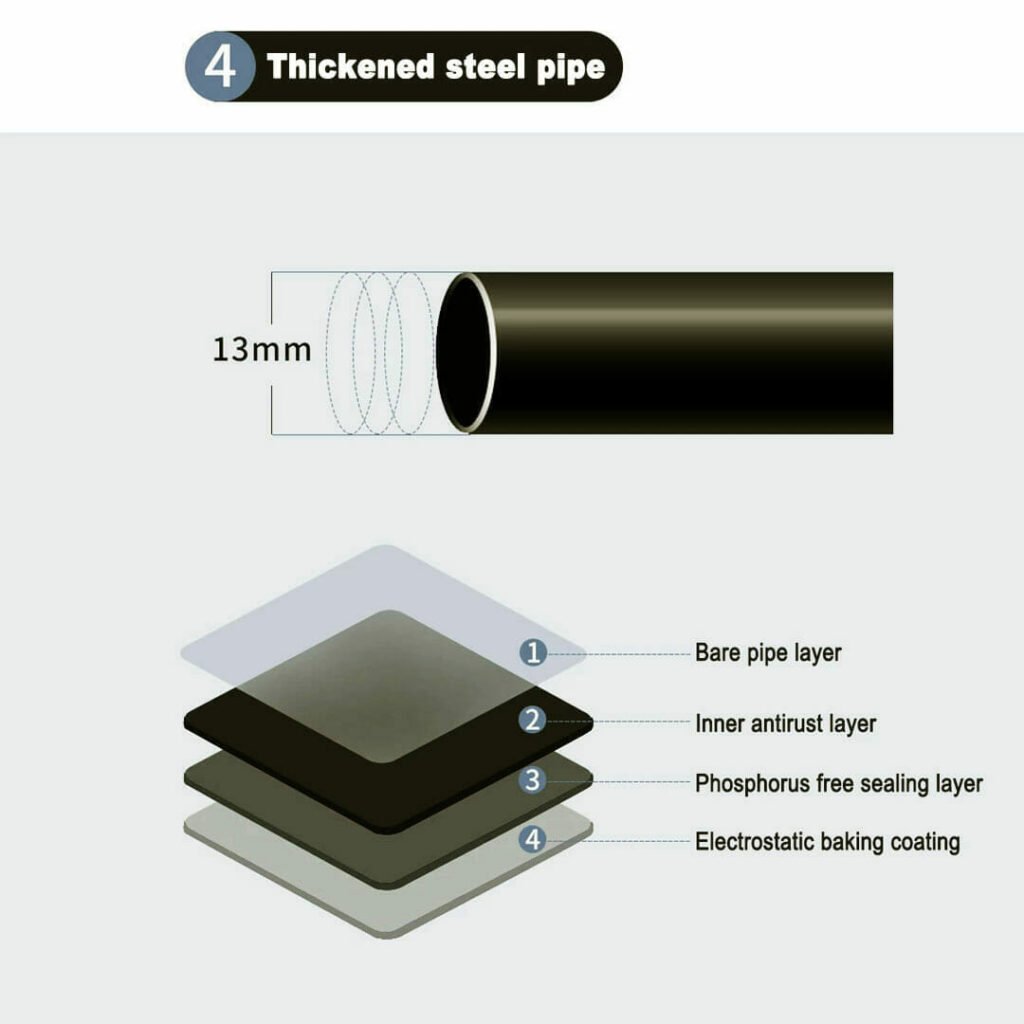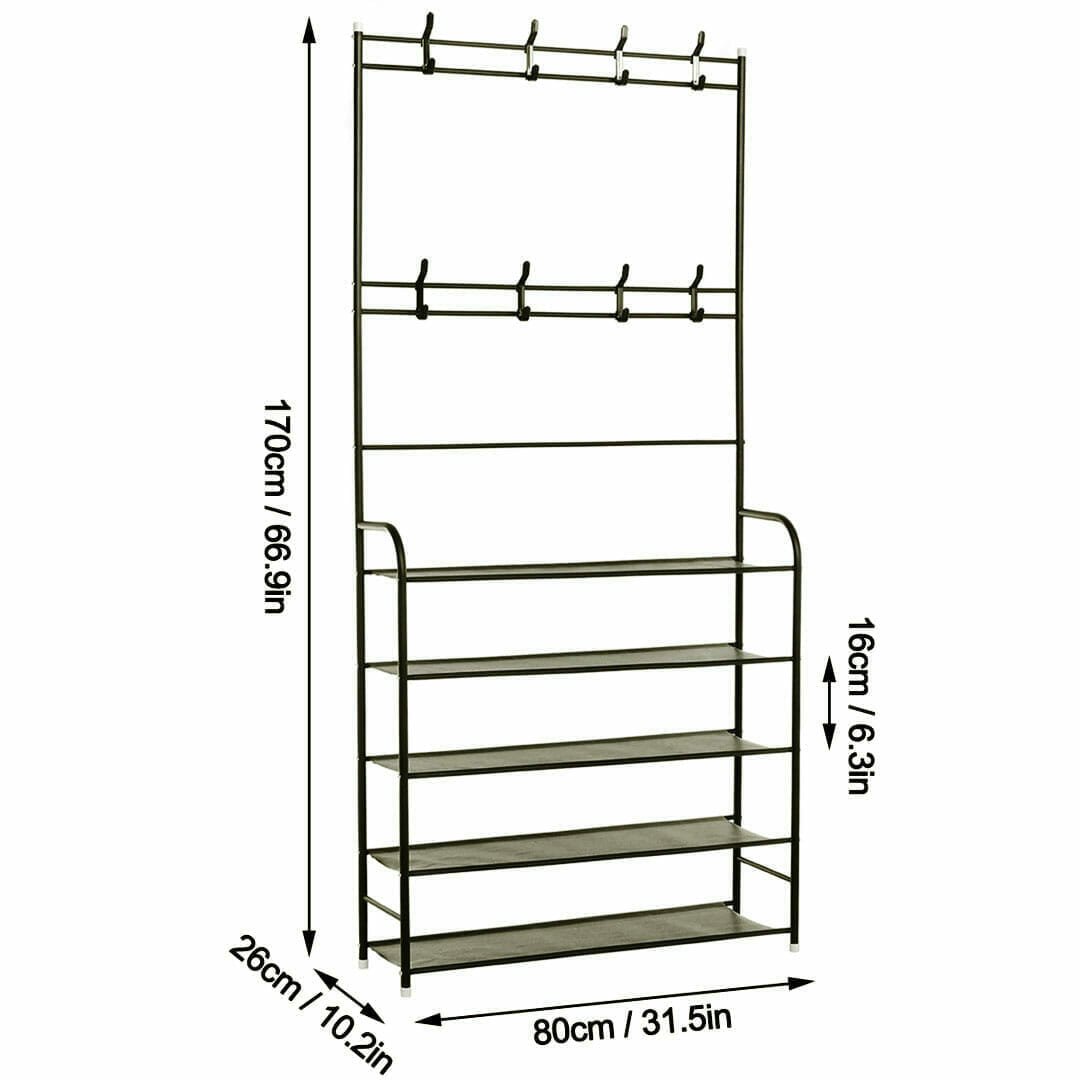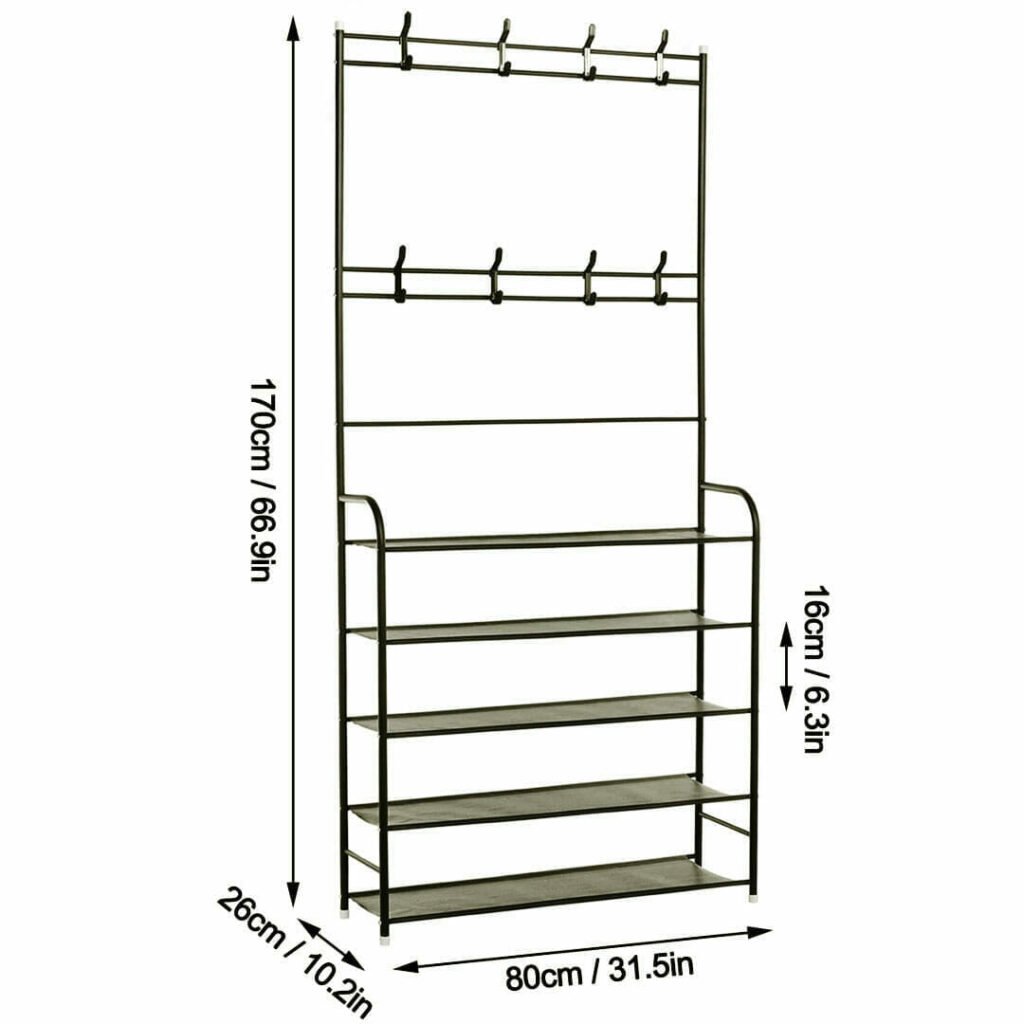 Keep in Touch
Follow our social media. Facebook. Instagram. Twitter. Pinterest.

Customer Review
This hat rack has been a lifesaver for my entryway! Not only does it provide ample storage for my hats and coats, but it also doubles as a shoe rack – talk about versatility! I no longer have to worry about tripping over scattered footwear when I walk through the door. The design of this multifunctional clothes hanger is sleek yet functional, creating a clutter-free living space that makes me happy every time I step inside.
Important Link