Unleash Refreshment Beyond Ordinary
Are you tired of the same old, uninspiring water jugs? Upgrade your hydration experience with our Water Pitcher Jug with Faucet 3.5L. This isn't just any pitcher; it's a game-changer. Crafted from safe food-grade PP material, it's lighter yet incredibly robust, capable of handling temperatures from a chilling 0℉ to a piping hot 300℉.
Stay Cool or Heat Things Up
No matter the occasion, our pitcher has your back. Picture a scorching summer day, and you're craving ice-cold water. Just add some ice, and our pitcher keeps it frosty and invigorating. But it doesn't stop there. Craving a soothing cup of herbal tea? With the heat-resistant design, it can handle steaming water for a perfect brew every time.
Designed for Convenience and Innovation
Say goodbye to the hassle of pouring. Our unique faucet design transforms your pouring experience, making it a breeze to fill your glass or water bottle. And that's not all. The detachable special lid is a game-changer. Just open it up to infuse your water with fresh fruits or tea bags, taking your hydration to the next level. No more fumbling with awkward openings or spillage.
Your Oasis of Flavors
Savor the art of hydration with the Water Pitcher Jug with Faucet 3.5L. Its thoughtful design isn't just about refreshment; it's about creating a symphony of flavors.
Innovate Your Water Game
Elevate your daily water routine by transforming it into a tantalizing treat. Imagine the burst of citrus-infused water, the subtle notes of herbs dancing in your glass, or the rich aroma of tea blossoming with every sip. Our faucet design ensures that every drop overflows with the essence of your chosen flavors, all while preventing fruit or ice from spilling into your drink.
Beyond Simple Hydration
Sure, you can hydrate, but why stop there? This versatile jug expands your possibilities. Indulge in cold ice coffee, iced tea, or the crispness of cucumber water. Feeling creative? Mix up your homemade beverages, from sparkling fruit soda to refreshing lemonades. If you're looking for something a bit more spirited, our jug welcomes fruit alcoholic beverages, cocktails, and wine.
Craft Your Own Hydration Experience
Whether you're hosting a gathering, lounging by the pool, or just enjoying a quiet evening at home, our Water Pitcher Jug with Faucet 3.5L gives you the power to craft a drink that matches your mood. Add herbs for a touch of elegance or experiment with spices for an exciting twist. Your beverage, your rules.
Beyond Thirst, Beyond Ordinary
Quench your thirst for exceptional hydration with the Water Pitcher Jug with Faucet 3.5L. It's not just a jug; it's a gateway to a world of refreshment and creativity.
Designed for the Discerning
The faucet design isn't just a convenient feature; it's a statement of sophistication. It elevates your beverage presentation, ensuring that every pour is smooth and controlled, whether it's a clear glass of water or a vibrant fruit-infused concoction.
A Fountain of Possibilities
Imagine hosting a gathering, with this elegant jug as the centerpiece. It's not just a practical vessel; it's a conversation starter. Watch as your guests marvel at the crystal-clear perfection of your homemade beverages, enriched with fruits and flavors that invite them to explore and savor.
Craft Moments, Craft Memories
This jug isn't just about making drinks; it's about creating moments. Picture yourself on a lazy Sunday afternoon, lounging with a glass of your favorite concoction, feeling the stresses of the week melt away. Or perhaps it's a romantic dinner, where the subtle elegance of your beverage complements the ambiance perfectly. These are the moments that become cherished memories, and our Water Pitcher Jug with Faucet 3.5L is the catalyst.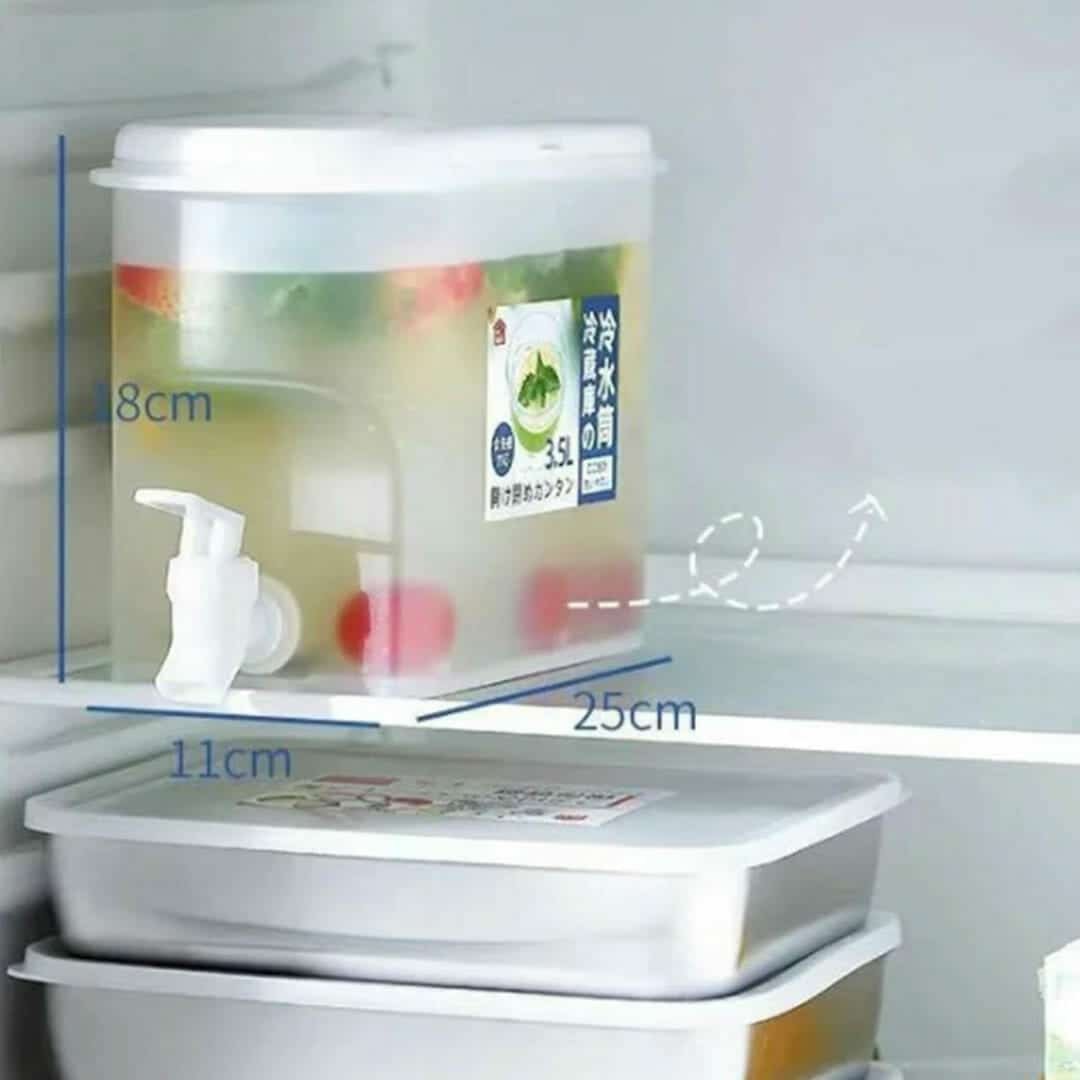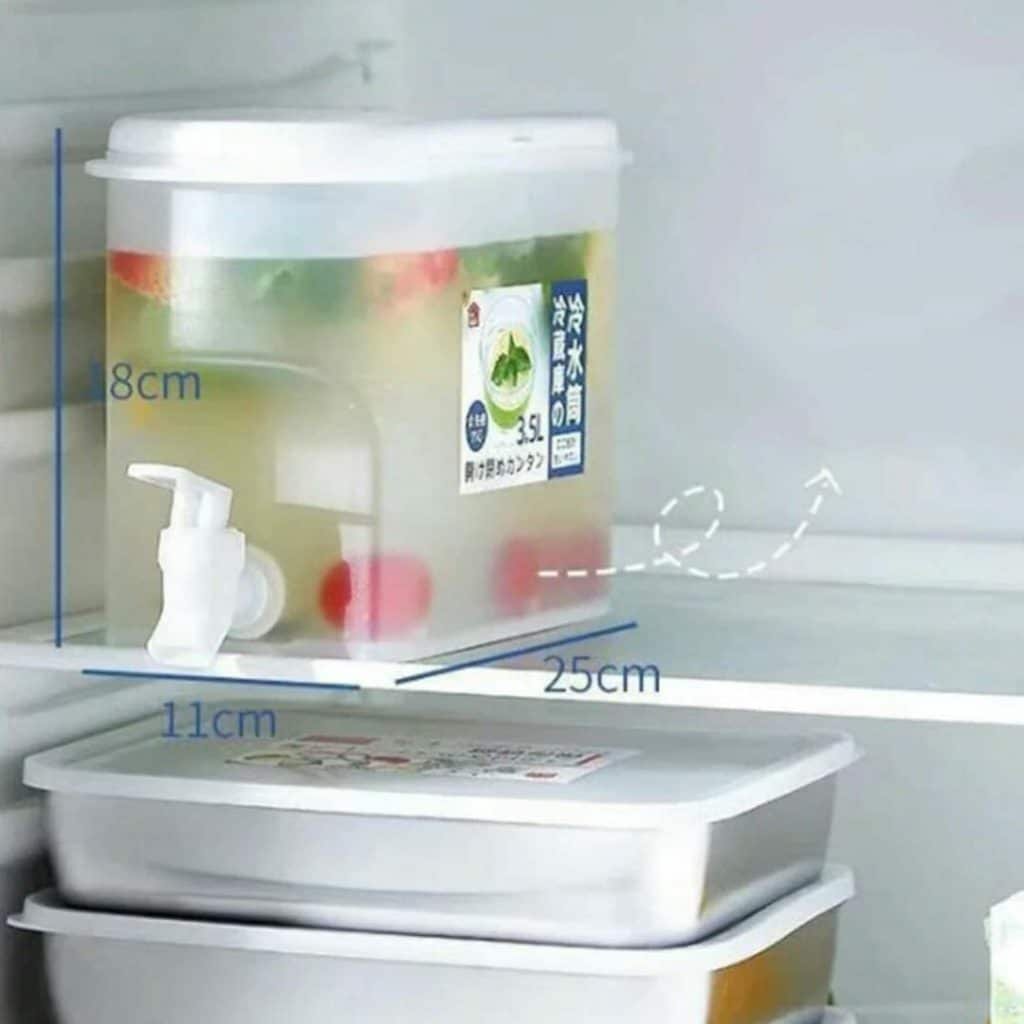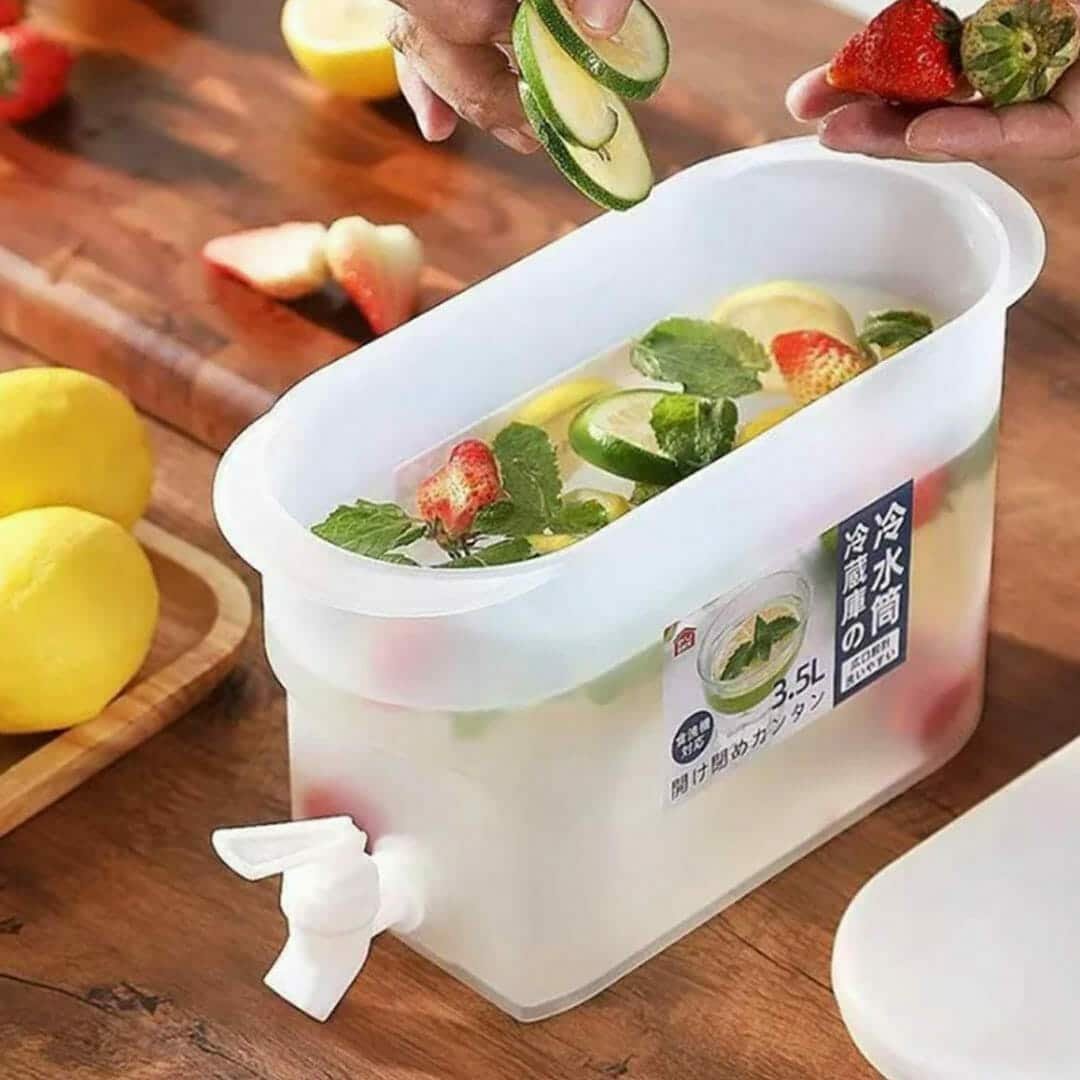 Keep in Touch
Follow our social media. Facebook. Instagram. Twitter. Pinterest.


Customer Review
Absolutely loving this Water Pitcher Jug! The heat-resistant design is a game-changer, making it perfect for both icy cold drinks and piping hot tea. The faucet feature is so convenient, and I'm having a blast experimenting with fruit-infused concoctions. It's become a beautiful centerpiece for gatherings, and it's super easy to clean. Highly recommend for anyone who wants to elevate their hydration game!